This Budget Airline Just Added 19 New Routes and Is Celebrating With $39 Fares
Though budget airlines come with their own set of issues, they're an awfully nice way to fly for cheap when they meet your needs. However, you probably care about them as much as you care about the cover story in the National Enquirer if the airlines aren't servicing your neck of the woods. 
If that's your situation, you might be in luck as Frontier Airlines continues to announce new cities and routes. Back in July, the airline added 21 new cities. This week, it is announcing 10 new routes in addition to the nine new routes announced earlier this month.
Most of these new routes won't start flying until the spring, but tickets for all routes are on sale already. You can get on those new routes for as little as $76.40 round trip. It's even cheaper if you're a member of the airline's Discount Den club. 
FlyFrontier.com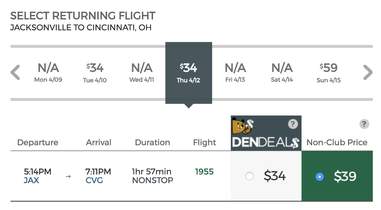 FlyFrontier.com
This week's new routes include Cincinnati to (and from) Jacksonville, Denver to Jacksonville, Des Moines to San Francisco, Jacksonville to Philadelphia, Jacksonville to Chicago, Las Vegas to Omaha, Madison to Philadelphia, Memphis to Philadelphia, Omaha to Philadelphia, and Omaha to San Francisco.
The announcement from earlier in the month included Atlanta to San Jose, Austin to Cleveland, Charleston to Chicago, Charleston to Philadelphia, Colorado Springs to San Antonio, Colorado Springs to Minneapolis, Colorado Springs to San Jose, Colorado Springs to Seattle, and San Jose to Cincinnati.
FlyFrontier.com
The example flight shown here is one of the new routes, but those aren't the only routes on sale. 
Frontier is bringing cheap flights to more cities and routes across the nation, but be sure you know what you're getting into. It's hard to find a better sticker price, but there are other factors to consider. For instance, Frontier charges to reserve your seat in advance. Occasionally, you'll find a few seats for free, but for the most part, you're paying if you want to ensure you're sitting with travel mates.
Also excluded from the sticker price, Frontier charges for checked bags and full-sized carry-on items. To get the cheapest price on your luggage, pay online when you purchase the tickets.
Additionally, Frontier's 62.4% on-time arrival rate in 2016 is grim. 
But if you can travel light and are used to making this kind of thing work, the expansion is good news. It's never a bad thing to have a bonus excuse to take a trip, and now it'll be a little easier to drop into El Bait Shop.
Sign up here for our daily Thrillist email, and get your fix of the best in food/drink/fun.
Dustin Nelson is a News Writer with Thrillist. He holds a Guinness World Record but has never met the fingernail lady. Follow him @dlukenelson.