You Can Get a $317 Round-Trip Flight to Hawaii This Spring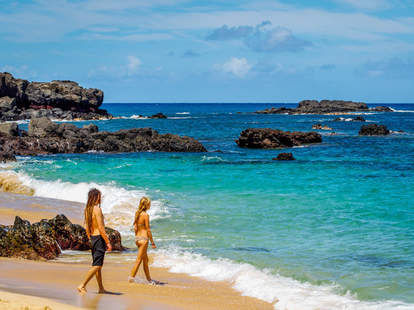 You can still reap the benefits of price wars on flights to Hawaii. If you're up for an island vacation in the very near future, you're in luck.
There's no single sale taking place right now, but prices on flights in April and May through airlines like Delta, United, Alaska, and Hawaiian are really good right now. The cheapest among them will get you from Denver to Kahului (OGG) for as little as $317 roundtrip. And that's not on some budget airline where you'll get stuck with a knapsack full of fees. That flight is through Delta.
Among the deals are flights out of Seattle ($343 to OGG or Honolulu/HNL), Portland ($343 to HNL), San Diego ($348 to OGG), San Jose ($359 to OGG), San Francisco ($378 to OGG), Los Angeles ($413 to HNL), and Phoenix ($479 to HNL). Though, to get the best prices you should probably book soon. Ticket prices can change quickly.
Delta.com
The best way to track down these flights is by starting at Google Flights. The search engine provides a good two-month view, allowing you to track down the cheapest flights if you're working with a flexible schedule. Use Google Flights to find the date that works for you, then take those details to Momondo.com, where you're likely to find a better price. (Though, that's not the case with the $317 Denver flight. That flight can be found directly on Delta's site.)
Then you're on your way to Hawaii, which means you're probably having a better spring than your coworkers. 
Sign up here for our daily Thrillist email, and get your fix of the best in food/drink/fun.
Dustin Nelson is a News Writer with Thrillist. He holds a Guinness World Record but has never met the fingernail lady. Follow him @dlukenelson.