Quick, You Can See Iceland and London for $335 Roundtrip
There are loads of reasons to go to Iceland, from sleeping in a bubble and watching the Northern Lights to eating rotten shark meat. If Reykjavik doesn't register on your bucket list that doesn't mean you can't go. Icelandair will let you take a free layover in Iceland on your way to Europe, and you can find good deals right now. 
Flying from the US to London, you'll find cheap winter tickets with a free layover in Iceland where you could drive the ring road or lounge in the Blue Lagoon. 
Even from the West Coast, you can find cheap fares, like the below trip in January from Seattle for $335. Other deals include flying from Toronto for $357 (USD), New York for $369, Boston for $383, Orlando for $416, Edmonton for $434, Washington DC for $445, Chicago for $469, and Denver for $478.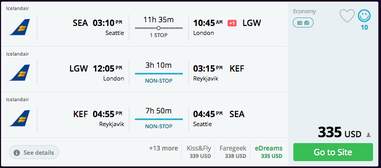 Screengrab Momondo
As highlighted by Scott's Cheap Flights, you can also find the layover deal on flights from the US to Oslo.
To track down the best price, use Google Flights or another service to find a roundtrip flight from your city to London or Oslo using Icelandair. After you find your date, make the date of the original return trip a flight to Reykjavik using Google Flights' multi-city search. You can probably shave a few dollars off that price by inputting the same information into Momondo. For instance, the Seattle flight came to $339 through Google Flights, but that same trip is $335 through Momondo. 
Best of all, Icelandair isn't a budget airline like WOW or Norwegian, both of which can have great deals, but there are a lot of hidden expenses. With Icelandair, you won't get all those luggage and add-on fees.
Prices can and do change quickly, so jump on it if you want to take advantage. Not all layovers suck. In fact, sometimes they're worth hunting down.
Sign up here for our daily Thrillist email, and get your fix of the best in food/drink/fun.
Dustin Nelson is a News Writer with Thrillist. He holds a Guinness World Record but has never met the fingernail lady. Follow him @dlukenelson.