To pretty much everyone's delight, prices on flights to cities across Europe have dropped over the last year. Cheap flights from budget airlines like Norwegian have helped push prices down toward $99 for a one-way flight.
That's the price you'll find in a new sale from WOW Air. The airline is offering $99 one-way tickets to Reykjavik, Iceland from cities around the US. All-in, you can get a round-trip flight to Iceland for $218.99 during the sale.
The $99 price tag can be found out of Boston, Chicago, Cincinnati, Cleveland, Dallas, Detroit, New York, Pittsburgh, St. Louis, and Washington D.C. Three other cities are involved in the sale as well, with Los Angeles, Miami, and San Francisco carrying one-way flights starting at $129. The deals on flights from Cleveland, Cincinnati, Dallas, Detroit, and St. Louis are only available in September and October.
Recommended Video
HearseCon Is the Biggest Hearse Event of the Year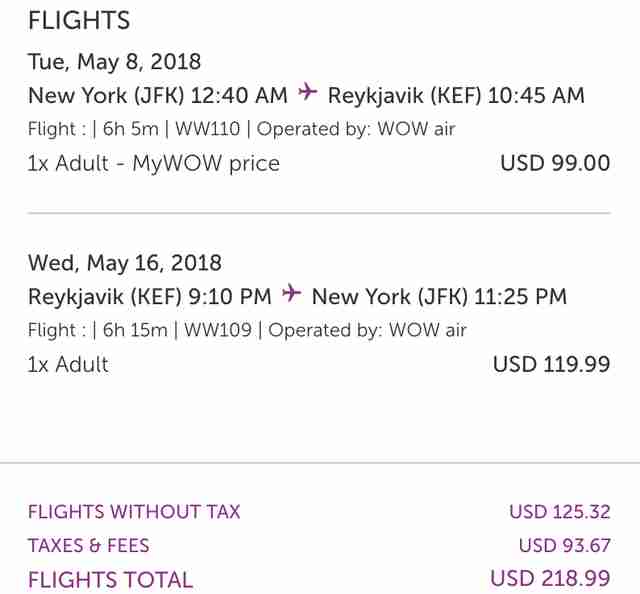 There is limited availability from some cities, but you'll find the $99 deals spread out from February through the late fall, meaning you can take a spring or summer trip to Iceland when it might be a little easier to traverse the Ring Road. 
As ever, be wary when buying from a budget airline. The sticker price is appealing, but there are other factors you must consider. WOW charges for seat reservations and luggage ($39.99 for a carry-on and $49.99 for checked luggage). The only luggage you won't be charged for is your personal item. 
Of course, there are ways to make the most of a budget airline, and it doesn't hurt if you're an absolute boss when it comes to packing. If you can make this sale work, it's a cheap way to get to a city that's not cheap but has great food, natural hot springs, and incredible views around every corner. 
Sign up here for our daily Thrillist email, and get your fix of the best in food/drink/fun.