$374 Roundtrip Flights to Peru Just Made Machu Picchu So Much Closer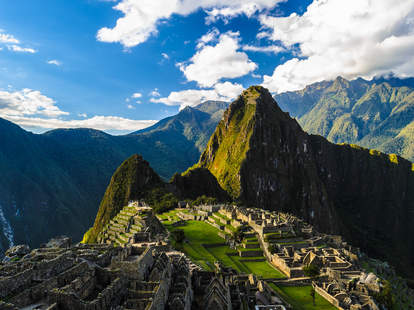 It's been 10 years since Machu Picchu -- a centuries-old Inca citadel located 7970-feet above sea levela tropical mountain forest -- was named one of the New Seven Wonders of the World, and it's no less stunning now. Fortunately, it's easier than ever to get there now with flights to Peru that can cost less than $400 round-trip. That's the deal The Thrifty Traveler recently highlighted after a dive into Priceline.com, and it's still going.
Several flights in early 2018 look like steals, with flights out of Florida looking like the cheapest options. On the low end, Thrifty Traveler touted a $374 round-trip, non-stop flight deal departing Fort Lauderdale in early February. The prices go up from there, but that's a 7-day trip that on some airlines and dates could cost as much as $300 more.
Miami's deals are comparable. Those flights, through Avianca, start at $399, and again, they're round-trip options in early February.
And they aren't the only cities with hot deals, either. Here's a rundown of the comparable round-trip flights in early February from North American cities and their prices via Priceline.
The advantage of Priceline is that you can cancel a flight within 24 hours of booking it. (We'd also recommend doing a bit of digging through other sites like Google Flights, Momondo, and CheapFlights.com before you book, too, just to do your due diligence.) Keep in mind too that most of these aren't budget airlines, but full-service carriers like JetBlue, Avianca, LATAM, and more.
If you've always considered a vacation in Peru, you should definitely take advantage of this. And if Machu Picchu and Peruvian cuisine aren't enticing-enough draws, there's also this.
h/t The Thrifty Traveler via Travel+Leisure
Sign up here for our daily Thrillist email and subscribe here for our YouTube channel to get your fix of the best in food/drink/fun.