Round-Trip Flights to Mexico Have Dropped to $195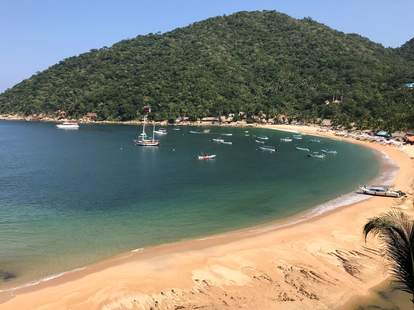 DANIEL SLIM/AFP via Getty Images
It's been an outstanding couple of weeks to dig up a cheap flight. In addition to the recently highlighted cheap flights to Hawaii and Cancún, you can currently land yourself a round-trip flight to Puerto Vallarta in Mexico for less than $200. 
It's not a specific sale from an airline. Prices are just really low right now. The cheapest among them will get you a round-trip flight to Puerto Vallarta for $195. That ought to leave you enough cash to do damn near whatever you want on your unexpected vacation. As highlighted by Scott's Cheap Flights, the deals are primarily to be found on fares from January to April of this year. Though, the timing on the cheapest trips depends on your city of origin. 
Here are a few of the cheapest round-trip flights available. All of the prices were found through Google Flights. 
from Baltimore: $269
from Chicago: $299
from Dallas: $268
from Denver: $278
from Houston: $298
from Las Vegas: $268
from Los Angeles: $257
from Miami: $281
from New York: $287
from Phoenix: $195
via Google Flights
The lowest price flights are found through a variety of airlines, including Aeromexico, American, Delta, Interjet, United, and Volaris. Anytime you're sifting through a handful of airlines, you should think about what you need in terms of seat selection preferences and luggage to figure out how much more you will be charged above the sticker price. None of these airlines include a checked bag for free. Though, all except United allow for a free full-size carry-on. As Scott's Cheap Flights noted in its fare alert, each airline except Volaris offers a checked bag for $30. With Volaris, it's cheaper to upgrade the fare than to pay their higher fees for a checked bag.
Megan Drillinger previously noted at Thrillist that Puerto Vallarta is an incredible experience that, in many ways, is a far cry from other heavily frequented Mexican destinations like Canún. She also notes that January to April is a great time to go. So, quit wasting time, and get your ticket before the prices go up again. 
Sign up here for our daily Thrillist email and subscribe here for our YouTube channel to get your fix of the best in food/drink/fun.