Fly Round Trip to Cancun for $162 Right Now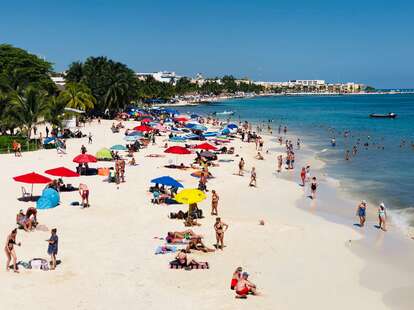 DANIEL SLIM/AFP via Getty Images
This piece has been updated to reflect lower prices in new cities and the latest low price on cities that were previously listed.
It feels like every airline has been quick to launch their first fare sale of 2020. We're just over a week into the new year and already there have been cheap flights to Hawaii, $49 one-way flights from Southwest, $129 one-way flights to Scandinavia, and $44 one-way flights from JetBlue.
Add cheap flights to Cancún to the list of deals worth browsing. Tons of airlines have good prices to the tourist destination in Mexico, with some tickets as low as $162 round-trip. Below, you'll find some of the best prices currently available through Google Flights. It's not a single sale taking place but low fares from a variety of airlines including JetBlue, Sun Country, Delta, United, American, and others. (Though, prices from Frontier and Spirit were not included here.)
The dates of the flights vary from city to city, but each of the prices listed is below the average price for the time of year based on data from Fare Detective. Many of the best prices are for early in 2020 or from August to October.
Round-trip fares to Cancún from:
Atlanta: $224
Austin: $285
Baltimore: $381
Charlotte: $262
Chicago: $172
Cleveland: $350
Columbus: $355
Dallas: $206
Denver: $265
Houston: $162
Jacksonville: $289
Las Vegas: $246
Los Angeles: $169
Nashville: $279
New Orleans: $321
New York: $271
Orlando: $282
Philadelphia: $264
Phoenix: $264
Raleigh: $350
San Antonio: $233
San Francisco: $366
San Jose: $298
Seattle: $319
Washington, DC: $370
With a wide variety of airlines offering good prices, you'll want to see what extras each airline offers before purchasing. The fees could add up and make it more expensive than a similar flight with a higher sticker price. Additionally, you may want to move quickly on buying your tickets. The prices could go up soon.
Even if your city isn't listed above, it's worth browsing to see if you might be able to find cheap fares right now. You could be halfway to a brief escape from everything that's going on at home.
Sign up here for our daily Thrillist email and subscribe here for our YouTube channel to get your fix of the best in food/drink/fun.