Hurry, You Can Fly to China for $437 Round Trip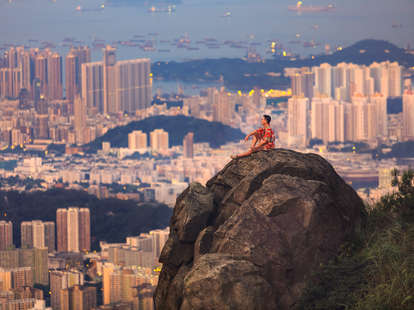 Shutterstock
Shutterstock
It feels like flying from the US to China should cost more than flying between New York and Seattle. But sometimes you luck out and find a deal that makes you sweat a little as you furiously enter your information, hoping the price doesn't change.
There are a good handful of those deals to locations around China right now. From many US cities, you can find a good price through United and China Eastern flying into Hong Kong. At the lowest, you can fly from New York to Hong Kong for just $460. You can also get there from Boston for $507 or Chicago for $561, among other cities.
Elsewhere you can find deals with Hainan, Cathay Pacific, ANA, and Xiamen flying into Chengdu, Guangzhou, or Shenzhen. For instance, you can make the trip between Las Vegas and Chengdu for just $437 and there are six different flight options at that same price the day of the below example.

To take advantage, start your search at Google Flights, where it's easy to compare travel dates and find the cheapest fare. Then take your desired flight over to Momondo and enter the dates of your flight there. You may find that you trim between $5 and $40 off the price of the exact same flight by searching through Momondo.
Cities where you're going to find good deals right now include Boston (Chengdu for $466), Charlotte (Chengdu for $531), Chicago (Guangzhou for $447), Detroit (Guangzhou for $492), Las Vegas (Chengdu for $437), Los Angeles (Chengdu for $450), New York (Guangzhou or Shenzhen for $467), Philadelphia (Chengdu for $478), Pittsburgh (Chengdu for $478), Raleigh (Chengdu for $477), San Diego (Guangzhou for $478), San Jose (Guangzhou for $467), Washington DC (Chengdu for $492), and Vancouver (Chengdu or Shenzhen for $575 CAD).
This list is by no means exhaustive. All of these cities have deals to multiple destinations and you'll undoubtedly find deals out of other cities. But it's worth doing it soon. Prices change rapidly and the best deals may be gone.
[h/t Scott's Cheap Flights]
Sign up here for our daily Thrillist email, and get your fix of the best in food/drink/fun.
Dustin Nelson is a News Writer with Thrillist. He holds a Guinness World Record but has never met the fingernail lady. Follow him @dlukenelson.