JetBlue is launching non-stop service to Havana, Cuba from New York City and Fort Lauderdale, Florida in November and the flights are starting off pretty cheap. They're one of many airlines that have begun regular service to Cuba since travel restrictions loosened up back in March.
While it might not be the spot to hit if your vacations require modern conveniences like abundant wi-fi, trips to Cuba can be done on the cheap right now with deals like this popping up fairly regularly. (Earlier this week, Southwest offered $59 flights.)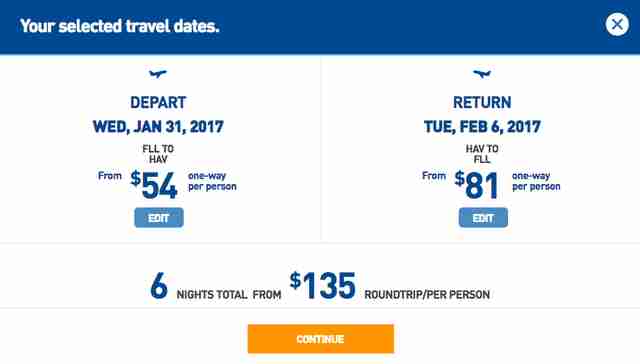 The best part of these cheap JetBlue fares is that there aren't many restrictions on dates. The lowest prices are basically universal, with the exception of holidays. Though if you're hoping to get away this weekend, you'll need to wait. Service from New York City doesn't begin until Nov. 28, while service from Fort Lauderdale begins Nov. 30.
A roundtrip ticket from Fort Lauderdale is currently running a reasonable $135, while flights from New York City are going for $205 (and may be climbing, since earlier on Thursday they were seen as low as $198).
To take advantage of the cheap flights, use the JetBlue Best Fare Finder and make sure you fall into one of the 12 categories that permits travel to Cuba. Then, don't forget to leave a little extra space in your bag, because Cuban cigars and rum are now legal in the U.S.
Sign up here for our daily Thrillist email, and get your fix of the best in food/drink/fun.