Roundtrip Flights to Europe Are Less Than $400 From All Over the US Right Now
Although it's entirely likely that you're still scrambling to figure out all of your upcoming holiday travel right now, it's never too early to get a jump on vacation planning for next year. In fact, if you have a European getaway in your sights, now may be the perfect time to book a flight, because flights to a whole bunch of European cities are under $400 from several US airports right now.
Screenshot via Google Flights
The crazy-cheap roundtrip fares, which were spotted by the crack team at Scott's Cheap Flights, are available for a number of flights to over a dozen popular western European destinations, including Amsterdam, Bologna, Bordeaux, Dublin, Lyon, Marseille, Milan, Naples, Nice, Paris, Rome, Rotterdam, Toulouse, and Venice. Better yet, you can nab a good deal from nearly every major airport in the contiguous US. They're also available on a number of major airlines, including both budget and mainstream carriers.
As of this writing, there were still lots of wildly affordable flights available from most departure cities between now and May of 2018 according to a preliminary Google Flights search. However, there are some particularly super-cheap standouts like a $269 nonstop flight from Dallas to Milan on American in April, a $350 nonstop from New York to Rome on Norwegian February, and $380 flights on WOW Air from Chicago to Amsterdam in May. It may take a bit of back and forth plugging in different departure and arrival cities, but odds are you can find a great fare from somewhere near you.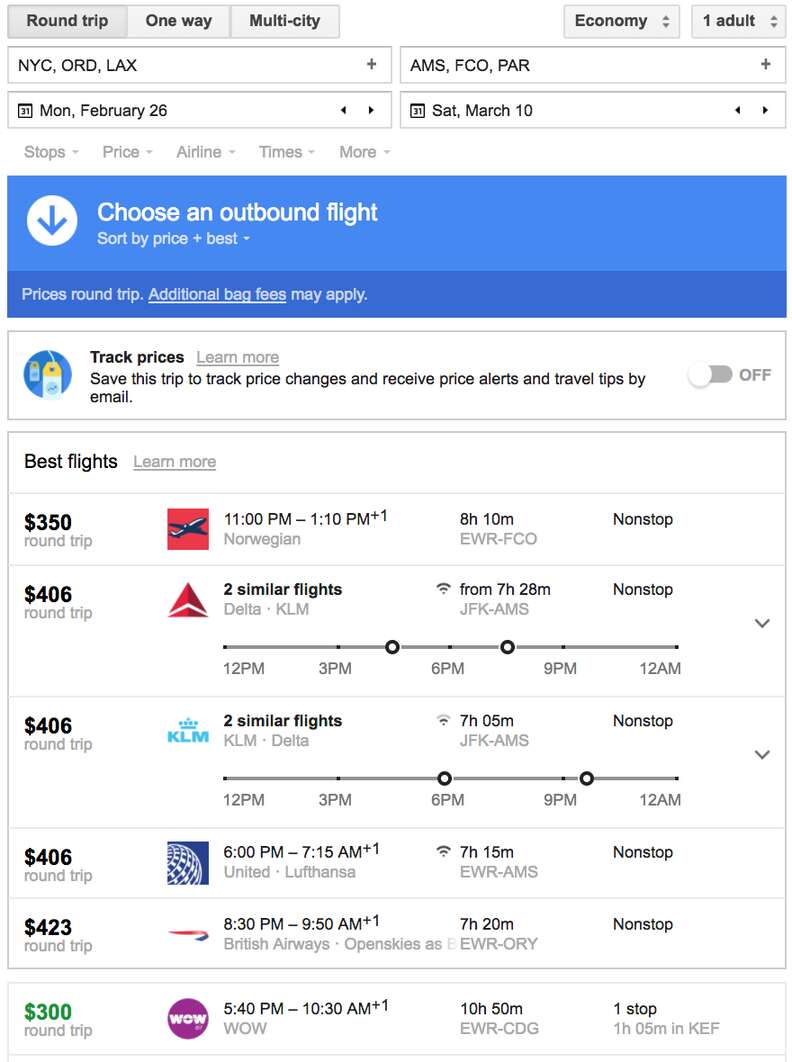 Screenshot via Google Flights
Like most airfare sales, this one is fleeting, and there's no telling when the deals will disappear. So, even if you aren't ready to hash out the details of a winter or early spring 2018 getaway, it might still be worth your while to at least lock in some flights at a bargain basement price before they're gone for good.
Sign up here for our daily Thrillist email and subscribe here for our YouTube channel to get your fix of the best in food/drink/fun.