Flights to Hawaii Can Be Found for As Little As $357 Right Now
The price war on flights to Hawaii appears to be alive and well. Since United Airlines began flying to Hawaii more regularly, prices have been dropping and have popped up at sub-$400 prices with some regularity. 
Prices are down once again for trips in late September and early October. A handful of cities in the continental US have roundtrip fares to Maui (Kahului) for as low as $357. The airlines carrying these deals vary between United, Delta, Hawaiian, and Alaska Airlines, but the prices are what really matter. (Oh, and that there are no budget airlines involved. That matters too.)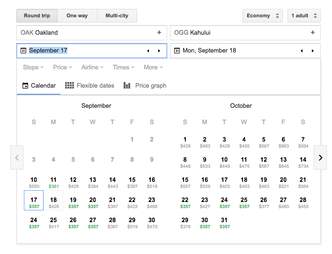 Google Flights screengrab
You can get to Hawaii from Oakland for $357, Seattle or Portland for $362, Vancouver for $378, Calgary for $404, Edmonton for $410, and San Diego for $412.
There are also tickets available from cities that aren't on the west coast for less gaudy but nonetheless below average prices. Some of those fares include flying from Las Vegas for $492, Denver for $510, Phoenix for $545, Austin for $550, Dallas for $562, St. Louis for $572, and Kansas City for $582.
Maybe that's overkill, but the point is, dig up the numbers for your city because you might be able to get yourself to Hawaii for a below average price right now.
To find these prices, search Google Flights. You might be able to shave a few dollars off the price by inputting what you find into Momondo. But if you'd prefer to the assurance of buying directly from an airline, the prices are still ridiculously low searching on Google. (All prices quoted here are prices found via Google Flights.)
Do it quick, because flight prices aren't necessarily going to stay this low for long. Also, the best kind of Monday-morning watercooler talk is telling people you decided last night that you'd go to Hawaii this month.
Sign up here for our daily Thrillist email, and get your fix of the best in food/drink/fun.
Dustin Nelson is a News Writer with Thrillist. He holds a Guinness World Record but has never met the fingernail lady. Follow him @dlukenelson.