Hurry Up and Get a $359 Roundtrip Flight to Hawaii
Chilling on a beach in Hawaii isn't a bad way to spend a week in the fall. You might think, "That's not for me. That's for people who photoshop their Instagram pics." Not so. Deals on flights to Hawaii are becoming increasingly frequent. Right now there are cheap fares from Alaska Airlines and Hawaiian Airlines (as well as a couple from United and Air Canada) that will get you to Honolulu for less than $400. 
The deals are mostly from west coast cities in September through November, but there are a lot of cities that have good prices. At the low end, you can get roundtrip tickets for $348 from Portland or $349 from Las Vegas and Seattle.
Other cities that are in luck include Edmonton ($337), Vancouver ($350), San Jose ($359), San Francisco ($377), Calgary ($386), San Diego ($429), Reno ($447), Los Angeles ($448), Eugene ($474), Missoula ($482), and Boise ($484).
Momondo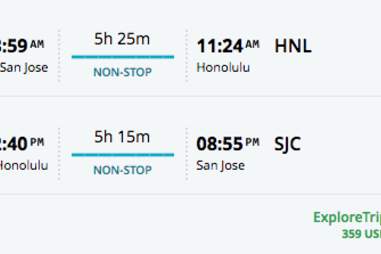 Momondo
Best of all, most of these fares aren't on airlines that make you pay extra to sit by the person you're traveling with. (Touching knees with a friend for eight hours is preferable to touching knees with a stranger for eight hours.)
To take advantage of these prices, search for cheap fares on Google Flights. Then take your preferred date and drop it into Momondo. You're likely to find that same flight for a few dollars less.  
Prices these low don't usually last. Jump on the deal if you want to spend a little time on the beach. However, with more airlines adding routes to Hawaii, deals like this are likely to pop up more frequently than you might expect. All you have to do now is remember things cost a little more once you arrive in Hawaii, and know that you're probably going to eat some Spam.
Sign up here for our daily Thrillist email, and get your fix of the best in food/drink/fun.
Dustin Nelson is a News Writer with Thrillist. He holds a Guinness World Record but has never met the fingernail lady. Follow him @dlukenelson.