Hurry and Get a Flight to Iceland For Just $287 From Tons of US Cities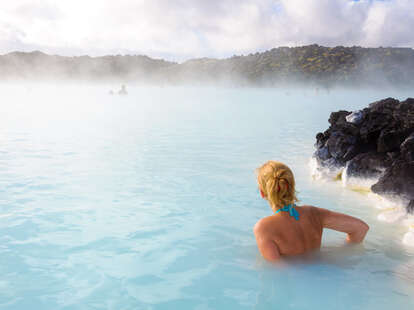 Shutterstock
Shutterstock
Everyone knows the best time of year to travel is whenever flights are cheap. That makes now a pretty good time to grab tickets to Iceland. There are loads of inexpensive tickets from August to December from quite a few U.S. cities. In fact, two separate airlines are running attractive deals on flights to Reykjavik, which is great news if you need to get some hákarl in your gullet.
The best deals are coming from Icelandair, which is not a budget airline. That means you aren't paying for extras like baggage, but you are going to have to dig a little to come up with the best prices.
You can get to Reykjavik from Washington D.C. or Newark for just $287, New York City for $288, Boston for $303, Chicago for $339, Minneapolis for $353, Denver for $379, Portland for $394, and Philadelphia for $434.
However, to dig up the prices will take a little shopping around. Use Google Flights to find your dates. Then compare prices by hopping over to Momondo.com where you can likely make Icelandair's sale even cheaper. You can also compare the prices at the ITA Matrix Airfare Search. (At ITA's site, enter the advanced routing code "fl" in search, then select "see calendar of lowest fares" with the length of stay set to "3-10.")
The other sale taking place is through WOW Air, which is a budget airline. You'll probably see tickets that look cheaper than you're finding with Icelandair. However, figure out how light you can travel and compare prices at the end of the process because WOW charges for luggage, including your carry-on. ($49.99 for a carry-on, $69.99 for checked luggage.) It also charges to select a seat instead of having it randomly assigned. (Starting at $11.99 per seat.)
The upside to having two sales is there are deals from WOW in cities where you won't get a deal from Icelandair. Those cities include Pittsburgh ($299.98 round-trip with taxes), Miami ($299.98), San Francisco ($329.98), and Los Angeles ($329.98). The west coast price, in particular, are pretty good.
As always, these prices are accurate at the time of publication. They'll go fast, and the price may increase the longer you wait.
h/t The Flight Deal / Scott's Cheap Flights
Sign up here for our daily Thrillist email, and get your fix of the best in food/drink/fun.
Dustin Nelson is a News Writer with Thrillist. He ate hákarl. He also ate hot dogs and drank coffee. Follow him @dlukenelson.