You Can Fly to Ireland for $416 Roundtrip if You Book Right Now
Trips to Shannon, Ireland are currently 50% off typical prices for this time of year.
If you are one of the nearly 60% of people who plan on traveling internationally in 2023, you might be stressing about the financial feasibility of such a venture. Fortunately, Going (f.k.a. Scott's Cheap Flights) exists, and has the insight on all the best flight deals all around the world. This particular deal can get you 50% off the average roundtrip to Shannon, Ireland.
Shannon is home to the airport located closest to the Cliffs of Moher, and the town also is nestled near castles, quaint pubs, and other charming Irish towns.
Here are the details you need to know, to book a trip starting at just $416 in October or $426 in September: First, you'll need to plan on traveling between September and October, and fly out of Newark International Airport. Here's a sample booking of the flight: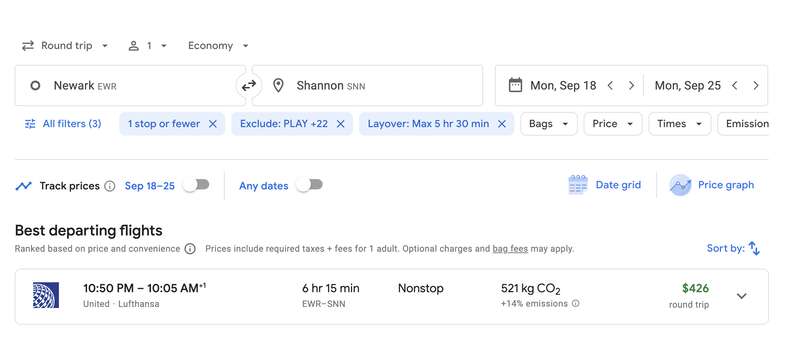 Like any booking deal, you'll need to be flexible on your departure and return dates in order to lock in the lowest prices. You can book through Google Flights or directly through the airline. The sample flight is operated by United and Lufthansa. This deal is for direct flights, so the flight won't include any layovers.
This price will only last for two to three days, so you'll want to book quickly.