Hurry, You Can Fly to Mexico for $194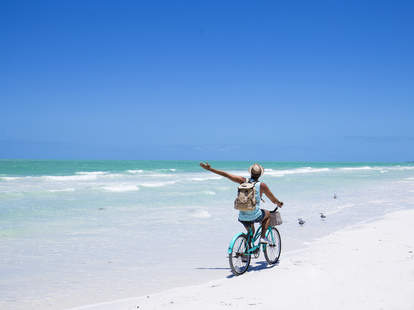 It's the middle of summer, so it'd be a real jerk move to tell you that summer is going to end.
Summer is going to end. But you can alleviate the pain of knowing that by planning and a fall or winter getaway. There are good deals to be had on flights from a handful of US cities to Cancun or Puerto Vallarta in Mexico with dates ranging from September through January of 2018. The deals are found across a number of airlines, including JetBlue, American Airlines, and Aeromexico, as highlighted by Thrifty Traveler. 
The prices start as low as $194 flying out of Fort Lauderdale. You can also fly out of Houston for $220, Los Angeles for $238, Jacksonville for $262, Boston for $273, Chicago for $279, Washington D.C. for $279, New York for $280, and Las Vegas for $288.

Screengrab Momondo
To find these flights, try searching Google Flights. It allows you to enter multiple airports as your destination, so you can enter both cities (CUN, PVR) and find the cheapest date. That might be your most inexpensive option, but it's also likely you'll find that same flight a little cheaper at Momondo.
Take the info you found on Google Flights and enter that flight into Momondo. You might shave a little off your trip. For instance, Los Angeles to Cancun in September is $261 on Google Flights. You can trim that exact same flight down to $238 by looking at Momondo.
It almost makes you forget that it's the back nine of summer now. Sorry.
Sign up here for our daily Thrillist email, and get your fix of the best in food/drink/fun.
Dustin Nelson is a News Writer with Thrillist. He holds a Guinness World Record but has never met the fingernail lady. Follow him @dlukenelson.