Round-Trip Flights to Paris Just Dropped Below $300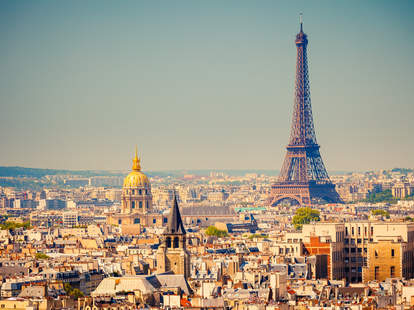 At this time of year, it may feel like you have to save up for thoughtful gifts for close friends and family members. But that's dumb. And here's why: 1) You can always craft gifts for people for free, and 2) There are super cheap flights to Paris right now. You can express your affection for your loved ones any day of the year, but it's not every day you can get a round-trip ticket to Paris for under $300.
These sub-$300 fares to Paris (where we're certain no one will notice you're American) are currently available from New York or from Miami, according to the wizards at the flight deal resource Dollar Flight Club. Keep in mind, however, that DFC thinks that these fares are likely to increase within the next 24 hours. So you should act now -- bracelet for your mother be damned. You'll be flying Swiss International Air Lines to get here, so you'll be stopping over in Zurich. But these trips generally go for more like $850, so you're potentially saving $569 here, so don't whine. To get these fares, set your dates between January 17 and February 26, 2019. 
If you're willing to pay just a bit more, you can also get flights from cities like Ft. Lauderdale, Denver, Chicago, Seattle, and more for as low as $312, DFC also reports. Those flights are mostly on American Airlines and fly between January 16 and February 12, 2019. 
And remember, you can always send your remaining friends and family a thoughtful postcard when you get there.
Sign up here for our daily Thrillist email and subscribe here for our YouTube channel to get your fix of the best in food/drink/fun.