Flights to Italy Are About to Get Even Cheaper Than They Already Are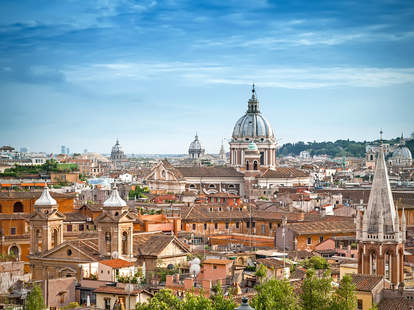 Between its delectable blood oranges, irresistible pasta, and thousands of years of history, booking an Italian vacation isn't exactly a hard sell for most people -- especially when, this summer, flights to Rome are cheaper than ever. Fortunately for vacationers and frequent flyers alike, it seems that trend is set to continue, with Norwegian Air announcing today that that it will offer flights to Rome from the US for as low as $189.
This doesn't come as much surprise, given that Norwegian Air recently opened a hub in Rome's Fiumicino Airport. Emily Fisher of CheapFlights.com recently explained how this works to Thrillist: "A new airline will find a route and drop prices because they think they can make a name for themselves there. Then everyone else piles on. Low fares beget more low fares, and it becomes a kind of price war."
That's why Norwegian Air (and hopefully other airlines) will soon be offering such cheap deals on flights to Rome from New York, Los Angeles, and the San Francisco Bay Area. The first nonstop flights are set to take off from Newark Airport on November 9 for $189 one-way. Nonstop flights from Los Angeles will begin November 11 at $229 and will start flying out of Oakland International Airport in early February 2018 for the same price. The airline plans to fly about a dozen flights a week from all US locations by early February of next year, making Rome that much more accessible for US travelers.
 
"Rome has always been on the table," Norwegian Air's chief commercial officer, Thomas Ramdahl, told Conde Nast Traveler. The city itself is a Master of None-style smorgasbord that you can enjoy relatively cheaply, and it's a gateway to some of the most beautiful countryside on the planet, as well as the unforgettable Italian Alps. All that for less than $200 one-way.
Keep in mind that while the cheap flight is awesome, Norwegian Air is still a budget airline. That means you'll have to pay extra for things like baggage fees, seat assignments, meals, and more. Baggage is a big one, since your first checked bag is not free, and Norwegian Air will charge you extra to check it at the airport. (EuroCheapo has a nice breakdown of baggage fees across European airlines, if you're curious.)
Sign up here for our daily Thrillist email and subscribe here for our YouTube channel to get your fix of the best in food/drink/fun.