Here's an easy way to make the transition to spring a little more pleasant: Take a trip. Maybe you should explore an underrated city for a weekend. (Or an overrated one. Your choice.)
Frontier Airlines' flash sale could help make it a reality. The budget airline is hosting a flash sale until midnight on February 28 featuring one-way flights for $29. Even better, if you're a member of the airline's Discount Den club, one-way fares are as low as $20. (The club is a worthwhile deal if you and a partner take a couple trips a year with the airline.)
The cheap fares are available in both directions. So, you can dig up round-trip tickets for as little as $56.60. Of course, the best prices are generally found over shorter distances, but there more than 70 routes with fares for $39 or less. Many of these routes have other offers available, as well. That includes cities where these prices can be found into the spring and cheap flights available after the midnight flash sale deadline.
There aren't day restrictions in the sale, but you must fly by March 24.
Recommended Video
Winter Is Here at this 'Game of Thrones' Ice Hotel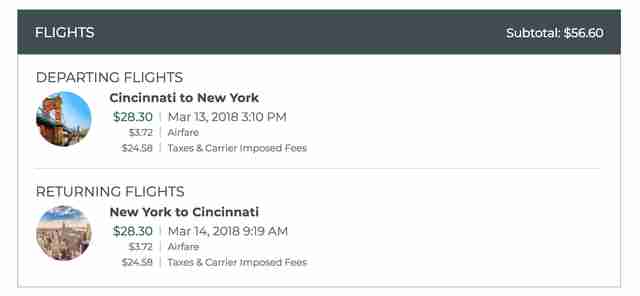 There's fine print worth considering with Frontier, however. The sticker price is great, but the only luggage you get for free is a personal item. Everything else will cost you. The airline also charges to reserve your seat. So, if you have a traveling partner and want to save money, you're probably not sitting together. Additionally, the airline's on-time arrival rate is quite poor. (Though, the world's most on-time airline is currently an American airline.)
Nonetheless, pack like a master and sit by a stranger, then go somewhere awesome for cheap. 
Sign up here for our daily Thrillist email, and get your fix of the best in food/drink/fun.