This Airline Is Offering $20 Flights Around the US
If you're in the northern portion of the country, enduring the interminable winter, heading somewhere warm probably sounds pretty nice right about now. You may be in luck because Frontier Airlines' new sale includes dozens of routes. 
You can find $20 one-way flights and round-trip fares for as little as $38.60 all over the United States. In fact, there are 24 routes with $20 one-way fares and 112 routes with one-way tickets for $49 or less. 
Cities in the sale include Albuquerque, Austin, Denver, Birmingham, Charlotte, Cincinnati, Detroit, Las Vegas, Long Island, Milwaukee, Minneapolis, New Orleans, Orlando, Philadelphia, Providence, San Jose, and many others.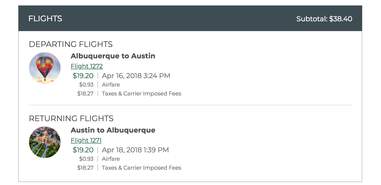 FlyFrontier.com
To get in on the cheap fares, you have to purchase before April 9. All tickets must be for travel by May 16. So, you're traveling soon, and that makes this a great opportunity for a quick surprise vacation. As always, when dealing with a budget airline be sure you know what you're getting into. The sticker price is alluring, but you're going to be paying extra for luggage and seat reservations. Though, you can forgo the seat reservation fee by having your seat assigned to you at the airport.
If the extras make you pause, Southwest has a sale with $49 one-way fares around the US as well and you won't get dinged with extra fees for luggage in that sale. Or you could always just try to get paid to take a road trip across Europe.
Sign up here for our daily Thrillist email, and get your fix of the best in food/drink/fun.
Dustin Nelson is a News Writer with Thrillist. He holds a Guinness World Record but has never met the fingernail lady. Follow him @dlukenelson.