This Airline Is Offering 90% Off Flights Right Now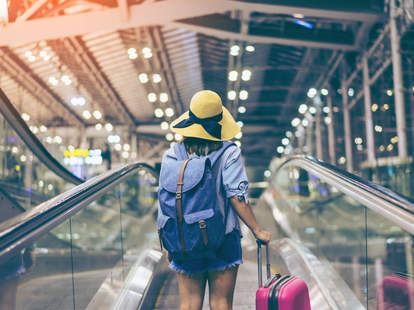 Spring is officially here, even though this snowy hellscape feels exactly like the snowy hellscape before the first day of spring. Nonetheless, the arrival of spring has been marked by cheap flights all over the place, from those ridiculous $171 round-trip flights to Hawaii to Southwest's spring sale or $99 one-way fares to Europe. 
Add this quick sale from Frontier to the list. The budget airline is offering 90% off a one-way flight until midnight on March 23. To get the discount, just enter the code "SAVE90" at the end of the checkout process. 
The cheapest flights on offer are $20 one-way fares on shorter routes. However, the bulk of that $20 price tag is comprised of fees and taxes, which are not 90% off. In the example below, you can see cheap fares result in meager savings with the 90% off code. (Though, $37.70 for round-trip tickets is an awfully nice price.)
You'll obviously see larger savings on the pricier trips, making Frontier's already low prices pretty alluring. But it's only 90% off the airfare portion of the final price. There's no discount on the "taxes and carrier imposed fees." Additionally, it's worth reinforcing that the airline's language says 90% off a one-way fare, which means you're only getting one leg of your journey discounted.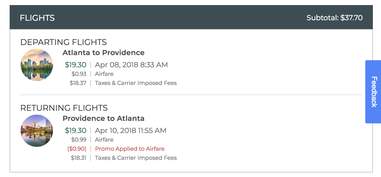 FlyFrontier.com
Flights eligible for the discount must be taken between April 4 and May 16.
It's also worth keeping in mind that Frontier will charge you for baggage and most seat reservations. You can, of course, have your seat assigned to you at the airport for free or pick a seat near the back of the plane, which are often free. The airline charges $25 for checked luggage and $30 for a carry-on.
So there are some asterisks involved, but you can still get a cheap flight in this sale, especially if you are a traveler who can pack like it's your job.
Sign up here for our daily Thrillist email, and get your fix of the best in food/drink/fun.
Sign up here for our daily Thrillist email, and get your fix of the best in food/drink/fun.
Dustin Nelson is a News Writer with Thrillist. He holds a Guinness World Record but has never met the fingernail lady. Follow him @dlukenelson.