The new year has barely started and Frontier is trying to help you make good on your resolution to travel smarter and travel more. The airline is offering 99% off flights with the code "CHEERS" until midnight. 
The budget airline's prices are always cheap, and it frequently runs sales. Nonetheless, if you're flying a route that starts at a bare-bones price, this is an opportunity to travel for the price of a nice meal.
Frontier has many $20 one-way trips. If you're booking one of those, like the below example, the savings are minimal. Taxes and "carrier-imposed fees" are not subject to the discount, which leaves you with a savings of about a dollar. 
Recommended Video
Can the NYC Steakhouse Survive?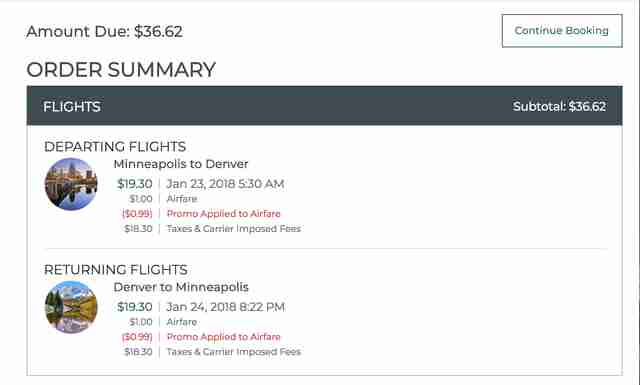 However, if you're not lucky enough to live on a route that's always in the bargain bin, like the next example, you could wind up saving a lot with this flash sale.
To take advantage, you must book by 11:59pm on January 2. Additionally, the code is only good for flights on these specific dates: January 9, 10, 13, 17, 18, 20, 23, 24, 25, 30, 31, February 3, 6, and 7.
The deal is impressive, if short-lived. However, be sure to get a full picture of how much you're going to spend on the trip before buying tickets. Frontier charges for seat selection. Though, you can have your seat assigned to you at the airport for free. The airline also charges for any luggage beyond a personal item.
To boot, Frontier's on-time arrival rate is nothing to write home about. (Unless you're writing about your frustration because your flight was delayed.)
Nonetheless, it's a cheap flight, and if you're capable of packing like a hero, you're probably going to be able to make this work and get out of town for ridiculously cheap. 
Sign up here for our daily Thrillist email, and get your fix of the best in food/drink/fun.