Hurry, $20 Flights Are Available in This Airline's Flash Sale
There's not much time to get in on it, but for about the same price as a ticket to Black Panther, you could be on a cheap flight out of town. Frontier Airlines has a flash sale running until midnight on March 7 with one-way tickets for as little as $20. In fact, you can get a round-trip flight for $38.60. 
As ever, cheap flights tend to be over shorter routes, but there are a ton of flights on sale right now. You'll find 56 routes with $20 fares and loads more with one-way fares for less than $50. Some of the cities in the sale include Albuquerque, Atlanta, Austin, Charlotte, Chicago, Cincinnati, Cleveland, Indianapolis, Denver, Detroit, Houston, Las Vegas, Milwaukee, Minneapolis, New Orleans, Philadelphia, Providence, Raleigh, San Jose, Tampa, and Trenton.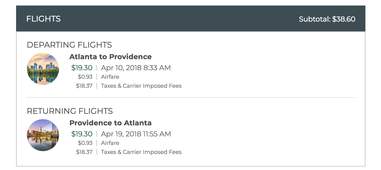 FlyFrontier.com
There is a catch, however. Frontier is a budget airline. So, if you aren't willing to fly light or are taking a longer trip, the total price could rise. The only baggage you get for free with a $20 ticket is your personal item. The airline charges for carry-on and checked luggage. (It's also worth noting that the airline's on-time arrival rate isn't the best you're going to find at the airport. It might actually be the worst.)
The prices are available on flights Monday through Saturday as long as you're booking your trip between April 9 and May 16. Get on it before midnight and then go somewhere unexpected. Being spontaneous is fun.
Sign up here for our daily Thrillist email, and get your fix of the best in food/drink/fun.
Dustin Nelson is a News Writer with Thrillist. He holds a Guinness World Record but has never met the fingernail lady. Follow him @dlukenelson.