A little pre-holiday travel might be in order with a short sale happening right now from Frontier. (It's also well-timed for anyone traveling for Hannukah.)
If you purchase by 11:59 pm on November 1, you can find $20 one-way flights and round-trip tickets for as little as $38.40 to many locations around the US. As these sales go, many of the cheapest trips are over shorter distances, but the deals are good up and down the list of routes. 
The flights must be taken between November 29 and December 19.
Recommended Video
HearseCon Is the Biggest Hearse Event of the Year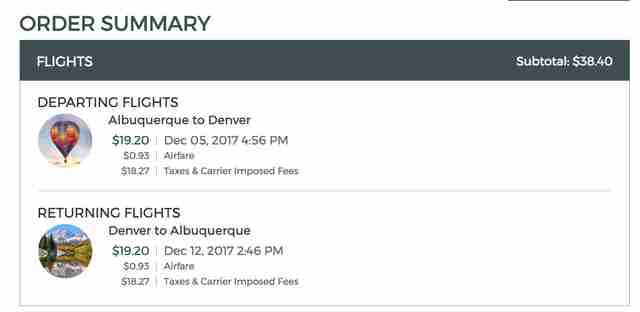 As usual, it's worth remembering that Frontier is a budget airline. If you're flying with a full-sized roll-aboard filled with presents, your total bill will be more than $38.40. Frontier, which has a less than impressive on-time arrival rate, charges for all luggage and the selection of most seats. A handful of seats on each flight are often free, but the vast majority must be paid for unless you're willing to have your seat assigned at the airport. That's free. Your bill can start to get inflated quickly, so look into what the full cost will be before booking. 
Nonetheless, the flight can still be cheap, especially if you're just taking a quick jaunt out of town for the weekend and can pack like a champ. 
Sign up here for our daily Thrillist email, and get your fix of the best in food/drink/fun.