Even though we made it through the 495th day of January, the winter won't end. That's as good a reason as any to break up the interminable cold and misery by getting out of town.
This sale might help. Southwest has a three-day sale with one-way tickets starting at $49. Eight routes sport the $49 price tag, while loads of others carry discounted prices. You'll find some of the cheapest tickets on shorter routes, like the $97.96 round-trip flight highlighted below. Nonetheless, there are cheap flights all across the United States in the sale.
The availability varies by city, but the travel window on domestic flights is from February 20 through May 23, as long as you book before 11:59pm in the respective time zone of your origin city on Thursday, February 1. For international flights, that window is between April 3 and May 17.
Recommended Video
'American Horror Story's New Season Makes Terrifying Connections to Current Events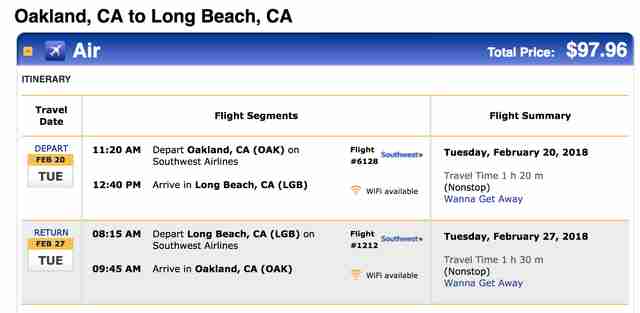 In addition to the aforementioned flights, other highlights from the sale include a $61 flight from Atlanta to Boston, a $74 flight from Los Angeles to Denver, and $79 flight from Chicago to NYC/Newark (or vice versa). There are also some damn-good deals on international flights, such as Ft. Lauderdale to Grand Cayman, Cayman Islands for $59, Ft. Lauderdale to Nassau Bahamas for $69, and Ft. Lauderdale to Cancun, Mexico for $97, among others.
Unlike the cheap flights you will find on a budget airline, Southwest's sale prices include a piece of checked luggage and a carry-on. The airline won't blindside you with fees and make those sale prices inflate like a marshmallow in the microwave.
Use the savings to figure out why Buffalo is more fun than its reputation indicates or why New Orleans is exactly as awesome as you'd guess.
Sign up here for our daily Thrillist email, and get your fix of the best in food/drink/fun.