As it does with some frequency, Frontier Airlines is running a sale with alluring prices. The budget airline has loads of domestic flights around the U.S. for under $100. 
There exactly 100 routes with one-way tickets for $39 or less right now. For a round-trip flight, the sale says it has tickets starting at $55. However, with taxes, the cheapest round-trip ticket at the time of publication was $56.40. (The $29 tickets in the screengrab below actually ran at $28.20 per ticket with taxes.)
The prices on the calendar can look good, but load the full price before getting too excited. Some flights will have a cheap one-way ticket but taxes and the other end of the flight can make the price rise quickly.
Recommended Video
Art of the Meal: Chloe Rose Makes Super Mario Bros Art With Hot Sauces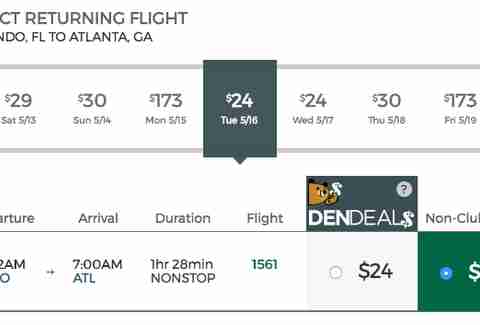 The cities with the cheapest flights include Atlanta, Austin, Charlotte, Cincinnati, Cleveland, Dallas, Denver, Detroit, Fort Lauderdale, Fort Meyers, Houston, Indianapolis, Kansas City, Las Vegas, Milwaukee, Minneapolis, Nashville, New York City, Omaha, Orlando, Philadelphia, Phoenix, Portland, Raleigh, Saint Louis, Salt Lake City, San Antonio, and Trenton.
However, make sure you understand the fees before you book. The airline charges a fee for checked baggage and will charge a fee for a full-size carry-on. Those fees vary based on what you're checking and when you're checking it. The carry-on fee is generally between $30-35 and the checked baggage fee is around $25 if you pay online at least 24 hours in advance of departure. 
Additionally, the airline charges to reserve most seats. In the example above, one flight had seats you could reserve for free. With one checked bag and a seat reserved in one direction, the final price was $81.40, including taxes.
If you can deal with being assigned a seat (gasp) and wearing your clothes instead of packing them, this can be a cheap trip. (As with the example above, it can be cheap even if you don't put everything on and go to the airport puffed up like the Michelin Man.) Get a full picture of the cost before you book and then starting planning your summer vacation. 
Sign up here for our daily Thrillist email, and get your fix of the best in food/drink/fun.