Hawaii doesn't have to be some dream vacation you never actually get after. Airline price wars have made it possible to get there on the cheap. You can often find round-trip flights to Hawaii in the $300s on airlines that aren't going to ding you with a truckload of fees before you land. 
Right now, you can find fares flying out of many US and Canadian cities in the $300 range, including flights as low as $345 to Honolulu (HNL), Maui (OGG), Kona (KOA), and Kauai (LIH).
You can find low fares flying out of San Francisco ($345 to HNL, OGG), Seattle ($352 to KOA, $362 to HNL, LIH, OGG), Edmonton ($354 to HNL, $357 to OGG), Vancouver ($355 to HNL, $357 to KOA), Calgary ($356 to OGG, $382 to HNL), Los Angeles ($357 to KOA, LIH), Portland ($362 to HNL, OGG), San Diego ($362 to KOA, LIH, OGG), Denver ($362 to HNL, KOA, LIH), San Jose ($366 to KOA, LIH, $377 to OGG), Winnipeg ($367 to KOA, $374 to HNL), Boise ($460 to KOA, OGG), Nashville ($482 to HNL), Austin ($484 to HNL, $488 to OGG), Kansas City ($496 to OGG), and Indianapolis ($498 to HNL).
These prices are great, but it's important to remember that low-priced flights tend to disappear quickly. The best prices could be gone within hours and are only accurate at the time of publication. 
Recommended Video
This Restaurant Reinvented the McGriddle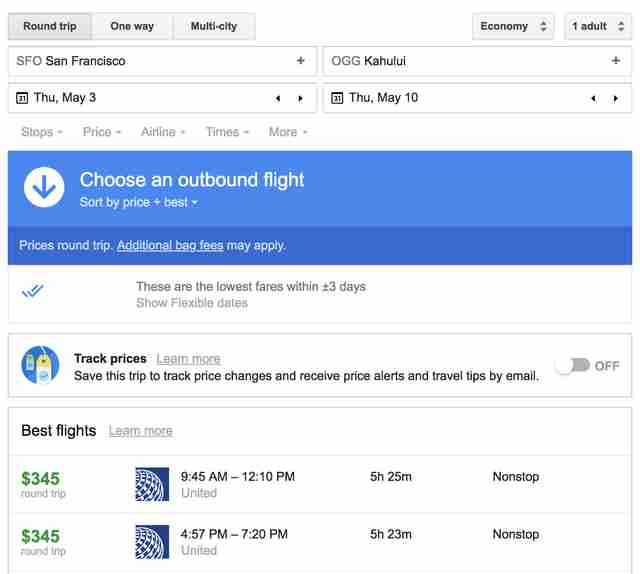 The dates these fares are available vary, starting in May and running through the fall. To take advantage of the deals, dig up prices using Google Flights. You can take the dates you discover there over to Momondo, and you may shave another few dollars off the fare by making that second search. All prices above were available through Google Flights. 
Most of the flights are through United Airlines and Alaska Airlines, but some are through Delta. If your flight is through Delta, it's worth noting you'll need to pay an extra $25 to check a bag. But the deals are still impressive and you could soon be on your way to a very affordable adventure. 
Sign up here for our daily Thrillist email, and get your fix of the best in food/drink/fun.