Good news for anyone who's been holding out for the right time to book a flight to Hawaii: You can score roundtrip flights there from five major cities for a little more than $300 right now. It's an astonishingly good deal, even amidst a barrage of super-cheap flights to the far-flung state that have bubbled up lately. 
Thanks, price wars.
Recommended Video
This City Has Got the Ultimate Bloody Mary Bar Crawl
At the time of publication, roundtrip flights from Newark, Washington, D.C., Denver, Houston, and Chicago to the likes of Honolulu, Kauai, Kona, and Maui throughout the rest of 2018 and early 2019 are available for as low as $361. To put that in perspective, that's roughly $500 cheaper than it would be to fly there otherwise based on the average fare price.
The super-sale was first spotted by the savvy folks at Scott's Cheap Flights, who only expect these bargain basement fares to stick around for about 24 hours, so if you want to get in on the action you'll need to act fast.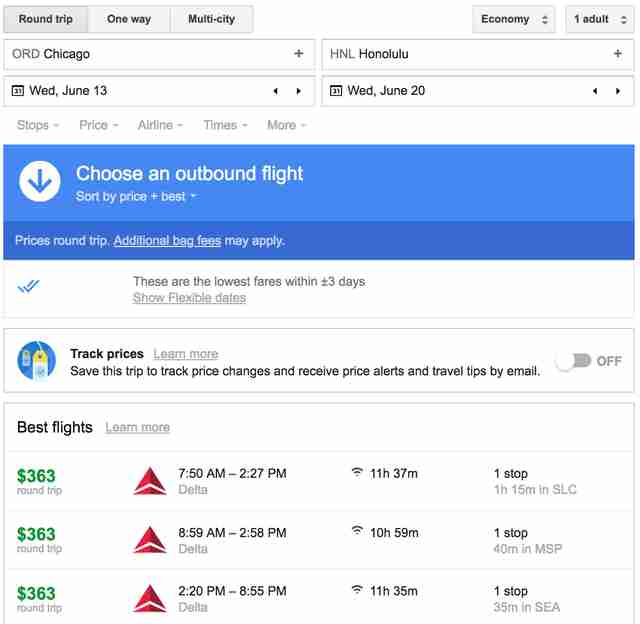 To nab one of these before they're gone, hop onto Google Flights or Momondo, scope out some potential travel dates, and peruse the deals from month to month depending on your availability (there are sub-$400 fares currently available for as far ahead as February 2019 from a few of the aforementioned cities).
It's also worth noting that the best deals here are available on Delta, and that they're basic economy fares, meaning you'll have to fork over an extra $25 if you want to check a bag (carry-ons are free). Still, it's a hell of a steal when you consider what you'd typically pay to jet to the Aloha State.
Sign up here for our daily Thrillist email and subscribe here for our YouTube channel to get your fix of the best in food/drink/fun.