This Travel Company Is Giving Free Caribbean Trips to Nurses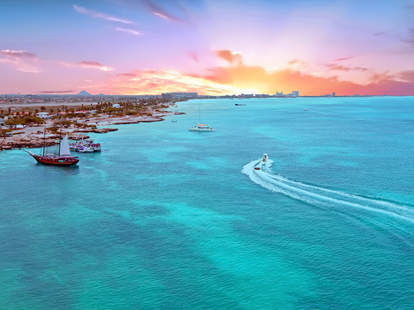 I am not a chill sick person. And frankly, I find it difficult to believe you are. We're only self-reliant until flu season hits and we need Nyquil by the gallon, our moms, and enough tissues to supply a small army. We're monsters. And because nurses are the ones tasked with handling our whiny asses, CheapCaribbean is flying 50 (and their plus-ones!) to Punta Cana, Bermuda, and Belize for free in return.
If you are a nurse, know a nurse, or are planning to become a nurse for the free trip, here's how it works: Sign up for the company's ER&R Club, which offers exclusive deals, upgrades, and packages to registered R.N.s, by 11:59pm on November 4, 2019. The date is important here, because the very next day members will receive a free flight registration straight to their inbox. The first 50 nurses to jump on that offer, are in.
The lucky recipients will score a five-plus night trip between January 1, 202 and June 30, 2020; though, per usual, there are blackout dates. Flights must be booked through United Airlines by November 15, 2019.
As for where you can go, that's largely up to you. According to GMA, all of CheapCaribbean's destinations are available as options, including St. Lucia, Turks and Caicos, and The Bahamas. 
Earlier this year, Norwegian Cruise Line celebrated another group of unsung heroes by gifting free cruises for Teacher Appreciation Week. Quick question, though: Any travel companies feel like doing the same for, I don't know, some writers? Maybe ones that work at Thrillist? Just kidding. The nurses deserver it more than we do. 
Sign up here for our daily Thrillist email and subscribe here for our YouTube channel to get your fix of the best in food/drink/fun.
Megan Schaltegger is a staff writer at Thrillist. Follow her @MegSchaltegger.