If You Want to Book a Cheap Holiday Flight This Year, Travel on These Dates
We know the cheapest time to book, but what about the cheapest days to actually travel?
We recently learned that the best time to book travel isn't always on a Tuesday, it can also be a Sunday. But with all of the data on when is the best time to book holiday travel to get the cheapest airfare (in September and October, aka right now), something we don't hear about as often are the actual best days to travel to save money. Like, the specific dates.
Normally, you get that insight when you're looking at a Google Flight calendar, trying to play with the dates in order to get the cheapest flights. But CheapAir.com has taken a bit out of the guesswork out of which days are cheapest to travel during the holidays this year.
"This year's Thanksgiving airfares are trending 12% more than 2022 prices, and flights for Christmas and New Year's are up about the same," CheapAir.com's just-released holiday travel 2023 report states. "We're expecting a busy holiday flight season and to get the best airfare we recommend buying flights on the early side."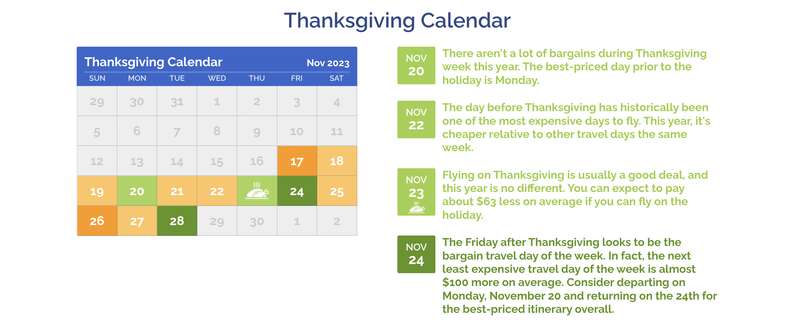 According to CheapAir.com, there aren't a lot of cheap days to travel around Thanksgiving this year. But on November 22 through 24, prices aren't much higher than they are compared to other days of the week. CheapAir.com advises to consider "departing on Monday, November 20 and returning on the 24th for the best-priced itinerary overall."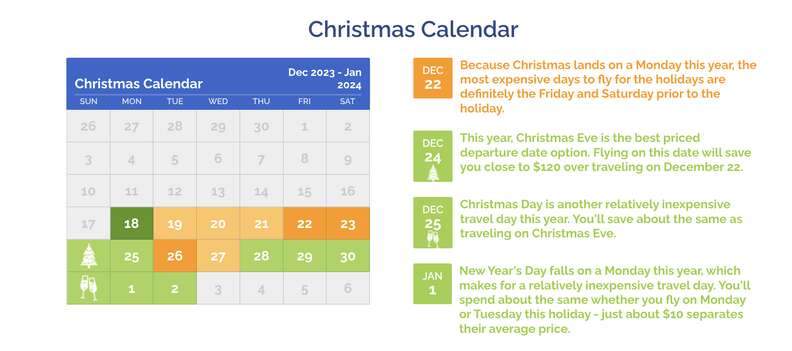 For Christmas, the most expensive days to travel this year are actually the Friday and Saturday before Christmas, because the holiday falls on a Monday. "This year, Christmas Eve is the best priced departure date option," CheapAir.com advises. "Flying on this date will save you close to $120 over traveling on December 22."
For New Year's, which also falls on a Monday, travel should be relatively inexpensive. "You'll spend about the same whether you fly on Monday or Tuesday this holiday - just about $10 separates their average price," the CheapAir.com report says.
Opheli Garcia Lawler is a Staff Writer on the News team at Thrillist. She holds a bachelor's and master's degree in Journalism from NYU's Arthur L. Carter Journalism Institute. She's worked in digital media for seven years, and before working at Thrillist, she wrote for Mic, The Cut, The Fader, Vice, and other publications. Follow her on Twitter @opheligarcia and Instagram @opheligarcia.