This Is the Cost of a Home with a Scenic View in Every State
A home with a view is getting pricier in the US.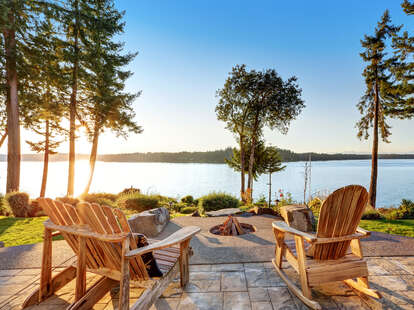 Artazum/Shutterstock
Artazum/Shutterstock
If you've ever seen the show Selling Sunset on Netflix, you know there is one thing the ultra-wealthy are looking for, a view. In any showing of some immaculate Los Angeles home, one of the stilettoed real estate agents will refer to the view at least three times. Usually, it's a distant vision of LA through the haze of smog and the infamous Hollywood Hills. But even if you aren't buying a home from Chrishell Stause that has a view of the City of Angels, it could still cost you a pretty penny.
American Home Shield (AHS) conducted a study to determine how the cost of a home with a scenic view has changed amid the inflated housing market. In early 2022, houses hit record high prices, whether or not they had a stunning view. AHS looked at the housing market in all 50 states, evaluating the costs of homes with waterfront, city, and nature views.
The average property value increases by 78.1% for homes with waterfront views. In Wyoming, the value skyrockets for homes with lakefront views, where property values are up roughly 225%. Alternatively, having a city view isn't guaranteed to increase a home's worth. In 22 states, city views decrease the property values, while in 21 states, property values increased. That is not surprising, considering a recent Gallup poll showed that 48% of Americans want to live in a rural area or small town. It makes sense then that if the home has a view of nature like trees, hills, or forests, the average increase for home value is 44.2%.
For each kind of view, there are good places and bad places to consider buying right now. The average price of a home with a city view in Michigan is $97,384. In California, the average cost of a home is over $1.6 million.
Nature views are more expensive across the board, with no state having average costs as low as city views in Michigan. California again tops the list, with an average price of $1.1 million. The lowest average price is in Indiana, at $281,457. That's not the worst price ever, but I can see myself settling for a city view in Michigan if push came to shove.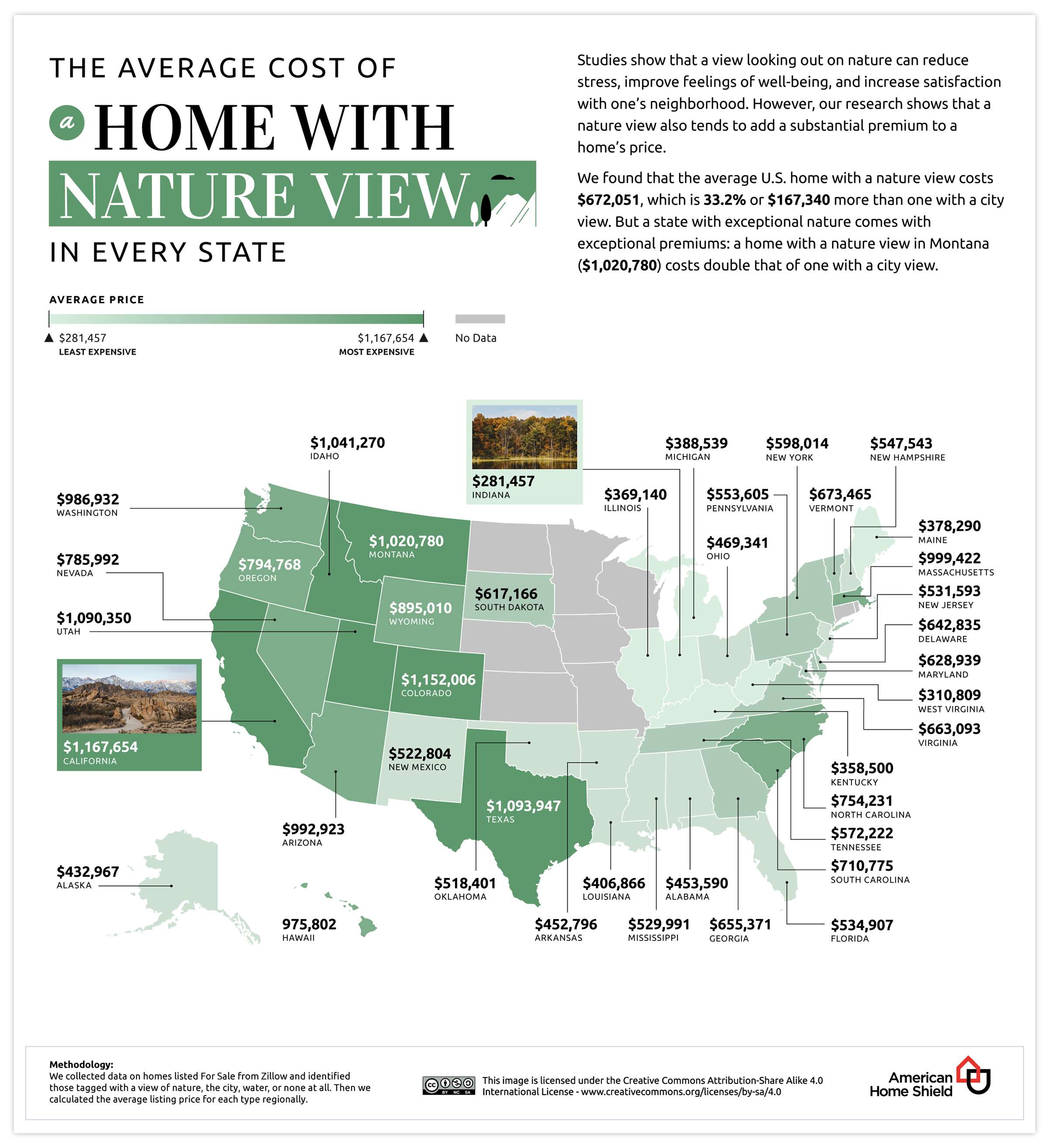 To no one's surprise, a waterfront view will cost you the most money. But, what may be unexpected is where the average price of a waterfront home is most expensive. It's not California, Florida, or New York. According to AHS, a lakefront view in the state of Wyoming costs an average of $2.7 million. The average price for a property with a waterfront view is $2.3 million in California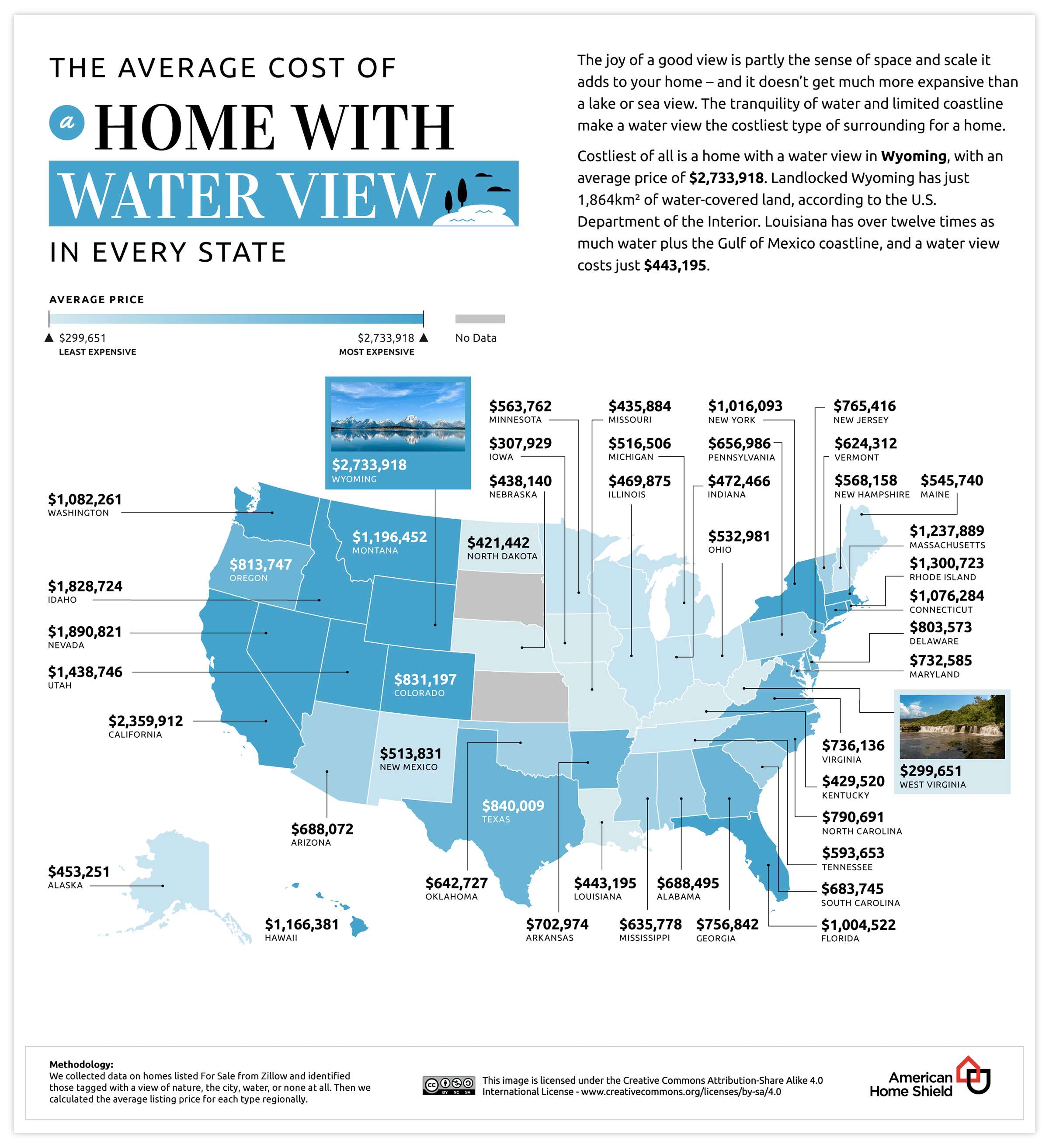 So, consider getting creative if you are thinking of a literal change of scenery. Maybe you never thought of heading to Indiana for the nature views or West Virginia for a waterfront situation, but, in this market, it may be worth mulling over.