Checkers & Rally's Is Unleashing 2 New Chicken Sandwiches to Rival Popeyes
Do we go original Mother Cruncher or bacon BBQ?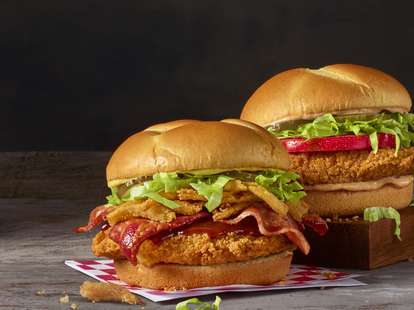 Courtesy of Checkers & Rally's
Courtesy of Checkers & Rally's
We settled the great chicken sandwich debate back in February, crowning Popeyes our Fasties award winner. But in the months that followed, more and more restaurants have created their own variants to rival the reigning champ. Just last month, KFC announced a "bigger and better" chicken sandwich while Checkers & Rally's is unleashing two more of its own.
After a trial run earlier this year, the fast food chain is debuting its classic Mother Cruncher chicken sandwich and bacon BBQ Mother Cruncher chicken sandwich nationwide. While both feature an all-white chicken breast coated in super crunch breading and fried to perfection, the key difference comes in toppings. The classic includes Checkers & Rally's new creamy squawk sauce, pickles, iceberg lettuce, and tomato on a toasted bakery-style bun.
The second, and arguably more interesting of the two, is glazed in a sweet and smokey BBQ sauce, then topped with crispy bacon, pickles, creamy honey mustard, lettuce, and crispy onions on that same toasted bun.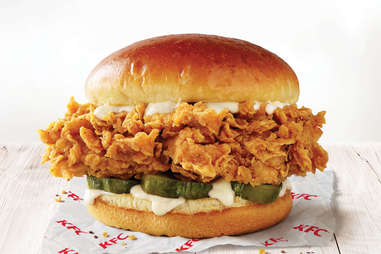 Judging next year's Fasties Awards might be a little more challenging -- not only with that dynamic Checkers & Rally's duo, but KFC's brand-new sandwich, as well. The southern-style fried chicken chain is looking to overthrow Popeyes with its latest attempt.
"We wanted a chicken sandwich that really lives up to our legacy as the fried-chicken experts and, let's face it, ours wasn't the one to beat," chief marketing officer Andrea Zahumensky said in a press release. "[Our food innovation team] left no stone unturned. They tested pickles with eight variations of thickness and brines before we landed on our pickle. And for our perfect brioche bun, we collaborated with six different bakeries."
Sign up here for our daily Thrillist email and subscribe here for our YouTube channel to get your fix of the best in food/drink/fun.
Megan Schaltegger is a staff writer at Thrillist.