You Can Now Buy Cheese Shampoo and Bacon Conditioner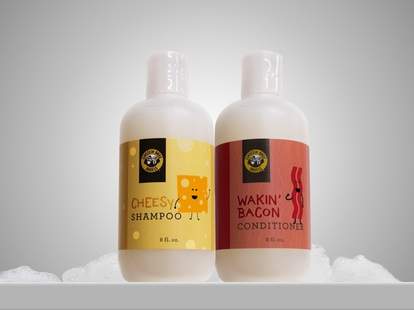 Courtesy of Einstein Bros. Bagels
Smelling like a ripe apple or an Irish spring is certainly pleasant, but do you really feel like you're expressing your essential self with those go-to scents? Probably not. So you'll be happy to hear that Einstein Bros. is releasing a limited run of Cheesy Shampoo and Wakin' Bacon Conditioner. Now you can smell like the bacon, egg, and cheese you really are deep down. 
"We often find ourselves on autopilot in the mornings as we cope with the transition from sleep to a productive day," SVP of Marketing, Product, and Innovation Kerry Coyne wrote in a press release. "Einstein Bros. Bagels wants to awaken consumers' morning routines with something totally unexpected that will get them excited about breakfast and our delicious Cheesy Wakin' Bacon sandwich."
Yes, this revolution in hair cair is really about a sandwich, but don't let that distract you right now. The set is a mere $10 each, so stock up. There's a limited supply after all.
Just think about all the mixing and matching you could do. Bacon conditioner with lavender shampoo, for instance, might make a seductive pairing?
Sign up here for our daily Thrillist email and subscribe here for our YouTube channel to get your fix of the best in food/drink/fun.