Between the heat of an oven, the typically longer time investment, and the fact that -- as the cliché goes -- baking is a science (and thus demonstrably less forgiving of screw-ups, compared to its jazzier counterpart, cooking), if you want to bake something great and you're not at least already pretty decent at baking, you might need a little help. No shame in that.
Fortunately, the Cheesecake Factory, in its delicious (if dubiously healthy) wisdom, is here to help beginner bakers like you and me. The casual dining restaurant known for its titanic pasta dishes and its many, many cheesecake flavors is bringing those flavors wares into your kitchen with a new line of products called The Cheesecake Factory At Home. 
The line debuted with a variety of classic baked goods the Cheesecake Factory is known for, with more announced as coming. It's got Classic Cheesecake, Strawberry Cheesecake, and Salted Caramel Cheesecake baking mix flavors on the shelves now alongside non-cheesecake offerings like Chocolate Chip Cookies, Snickerdoodle Cookies, Vanilla Cupcakes With Frosting,  and Chocolate Chip Cupcakes With Frosting.
The cheesecakes look pretty delicious and can be baked in a standard-sized oven in under an hour with minimal preparation. (It's cheesecake, so you'll have to chill it before serving, obviously.) Each box is good for 8 slices of the sugary stuff. The mixes are available now in stores like Walmart, Kroger, Publix, and on Amazon, as well as other retailers.
Recommended Video
Would You Eat a Blueberry Pizza?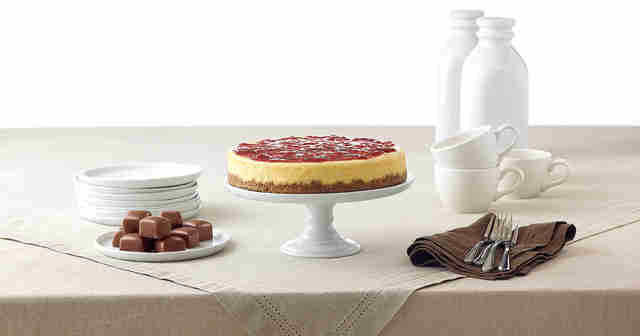 In addition to the products currently available, the chain has also announced a line of chocolates and truffle treats. So far, it's promised the following flavors for that lineup: Mint Crunch Chocolate Truffles, Milk Chocolate Truffles, Dark Chocolate Truffles, Sea Salt Milk Chocolate Coated Caramels, and Cappuccino Chocolate Truffles. They're not on the shelves yet, but according to the company, they're confirmed to be "coming soon."
Now, no one here's pretending you should nosh on these Cheesecake Factory desserts every day, no matter how much you love them. But the restaurant chain's definitely made its indulgent calorie bombs a lot harder to resist, especially for those of us who prefer jazz to science.
Sign up here for our daily Thrillist email and subscribe here for our YouTube channel to get your fix of the best in food/drink/fun.