Cheesecake Factory's Legendary 'Brown Bread' Is Coming to Grocery Stores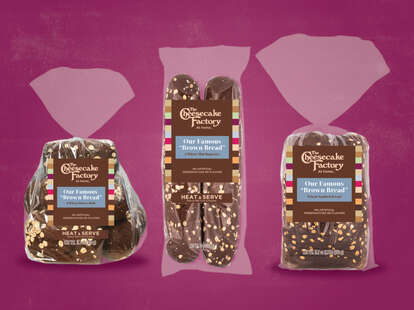 Courtesy of The Cheesecake Factory
In a world increasingly drawn toward the minimalism of companies like Apple, The Cheesecake Factory has stayed unabashedly maximalist. Consider the 34 flavors of cheesecake, the Egyptian columns, and the menu so thick it could stop a bullet. In spite of all this excess, though, the item fans are most devoted to is a simple slice of brown bread. Seriously, people are into this bread.
And great news for the Factory faithful: It's coming to our very own homes. Starting this week, this delicious mixture of flour and water will be on shelves in Winn Dixie, Bi-Lo, and Harveys grocery stores, with national chains getting slices of the good stuff in the coming months. The bread will be available in a trinity of baguettes, rolls, and sandwich bread. The suggested retail price for the "heat & serve" baguettes and rolls is $3.49, and for sandwich bread, it's $4.49.
Dinner rolls will come in an 8-pack, and mini-baguettes will come in packs of two. The loaf will be a loaf, naturally. The Cheesecake Factory claims this bread will taste "identical" to the bread in-restaurant, which is great news indeed.
If you want all 34 flavors of cheesecake, though, you'll still have to get yourself to the restaurant.
Sign up here for our daily Thrillist email and subscribe here for our YouTube channel to get your fix of the best in food/drink/fun.


James Chrisman is a News Writer at Thrillist who believes bread came to Earth on a meteor. Send news tips to news@thrillist.com and follow him on Twitter @james_chrisman2.