The Cheesecake Factory Is Giving Out Free Cheesecake on Weekdays for the Next Month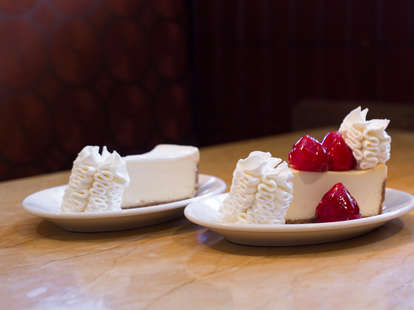 Evan Bracken/Thrillist
Evan Bracken/Thrillist
If delivery fees are making you rethink lunch plans, you don't have to go with another PB&J. (Nothing against the trusty peanut butter and jelly, but you can only eat it so many times each week.)
This week and the next few weeks, dessert is going to be on the house. Order from The Cheesecake Factory through DoorDash and they'll kick in a free slice of cheesecake to all orders of at least $15 on weekdays through March 25. You just have drop in the code "LUNCHSLICE" to get your choice of more than 30 flavors of cheesecake. (You can't go wrong with Strawberry or Adam's Peanut Butter Cup Fudge Ripple.)
To make that order even more alluring, DoorDash is offering $0 delivery fees on orders from The Cheesecake Factory over that same timeframe. Additionally, just because it's DoorDash doesn't mean you have to get delivery. The offer is good on pickup and delivery, as long as the order is placed through DoorDash.
And, here, you thought your cheesecake intake this week would be limited to those new Cheesecake Factory ice creams. You could be having cheesecake for lunch and dinner. It's really turning into your week.
Sign up here for our daily Thrillist email and subscribe here for our YouTube channel to get your fix of the best in food/drink/fun.