We Tried Cheetos' New Cheddar & Flamin' Hot Popcorn Flavors. Here's What We Thought.
Edited - Courtesy of Cheetos
When I first saw the word "cheetle," I thought, "How dare someone misspell Don's last name!" But the word has nothing to do with the Colonel from Iron Man. Cheetle is what the folks at Frito-Lay (which produces Cheetos) calls the orange and red dust that's plastered onto its addictive snacks… and your fingers after you eat them.
So when they asked me if I wanted to try two brand-new products coated in Cheetle -- Cheetos Popcorn and Flamin' Hot Cheetos Popcorn -- I couldn't resist. If I'm being real, I'd probably eat most snacks covered in Cheetle. Yeah, even Oreos. But how would it taste on popcorn? Would I ever want to go back to eating butter and salt on America's favorite movie snack? Let's find out.
What Cheetos Popcorn tastes like
Because I'm a scientist (Editor's Note: the writer is not a scientist, and almost failed high school chemistry), I ate each bite of Cheetos Popcorn side-by-side with original Cheetos. I wanted to see if Frito-Lay made the popcorn equally as cheesy, and if I'd prefer the original Cheetos to the popcorn version.
Let's start with the quality of the popcorn. It's light, airy, and has a quality crunch to it. But popcorn without salt or butter is a bit boring. And it becomes clear that this popcorn is ho-hum after a few bites, primarily because it does not have as much Cheetle as regular Cheetos. It tastes a little like a low-rent version of a tub of cheese popcorn from a school fundraiser. And not only will you miss the Cheetle, the popcorn is so uninteresting, you'll miss the crunch from the original Cheetos, too. Eating this makes me wish they'd overcompensated for the popcorn by drenching it in that beautiful cheesy dust. When I reached into this bag of Cheetos Popcorn, I wanted my hand to come out completely orange. It barely left any mark.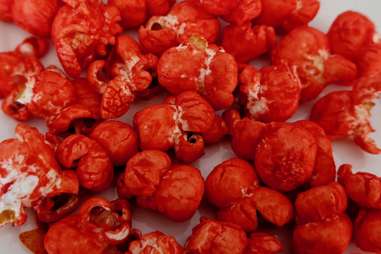 The joy of eating Flamin' Hot Cheetos Popcorn
It felt like a good sign that when I opened the bag of Flamin' Hot Cheetos Popcorn, it smelled like gloriously spicy Cheetle -- not popcorn. (Unsurprisingly, the regular Cheetos Popcorn just smells like popcorn in a bag.) Frito-Lay wasn't going to put "Flamin' Hot" on the bag and then water it down, ruining the reputation of one of the best spicy snacks in the game, was it?

I should state that I'm an absolute wuss when it comes to heat, but I love the burn of Flamin' Hot Cheetos. And great news: the popcorn delivers on the promise of it being Flamin' Hot. It leaves your mouth a little tingly. Furthermore, the level of Cheetle on this sucker is perfection. Frito-Lay may have skimped on the Cheetle from the original, but eating the spicy Cheetle dust on the popcorn is just like eating Flamin' Hot Cheetos.
After eating the original Cheetos Popcorn, I was worried the brand's popped corn experiment would be a mark on Chester Cheetah's blemish-free resume. And sure, I wouldn't choose Cheetos Popcorn over any other flavored popcorn, whether sweet or savory. But based on the many handfuls of Flamin' Hot Cheetos I couldn't stop shoveling into my mouth, it's a huge winner. The popcorn is a serious upgrade to your movie night, and the one new thing in your supermarket's snack aisle that's worth picking up.
Sign up here for our daily Thrillist email and subscribe here for our YouTube channel to get your fix of the best in food/drink/fun.