D.C.'s Beautiful Cherry Blossom Is Expected to Arrive Right on Time This Year
The cherry blossoms will bloom even if the festival has gone virtual.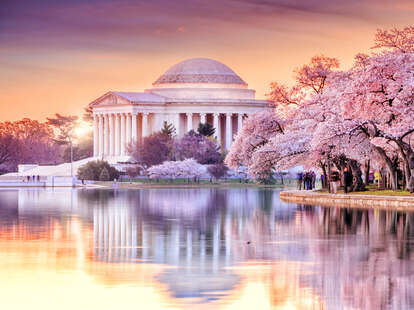 You can't always bank on this happening, but the beloved cherry blossom bloom in Washington, DC is expected to arrive right on time in 2021.
Though, of course, that news probably isn't quite as exciting as it might be in other years. The National Cherry Blossom Festival usually draws around 1.5 million people to the nation's capital. The festival runs from March 20 to April 11 this year, but it isn't likely to draw nearly that many people. Lots of the festival will be held virtually in 2021. Though, that doesn't mean you aren't able to see the cherry blossoms if you're nearby and taking proper precautions.
The National Park Service (NPS) says peak bloom happens on the day when 70% of the Yoshino cherry trees in the Tidal Basin are in bloom. The NPS puts out an annual projection of when that peak will arrive. Though, it notes that it's not easy to project with accuracy more than about a week-and-a-half from the peak. Nonetheless, the NPS does its best to update the projected date as March wears on, and it becomes easier to tell when the peak will occur.
The NPS currently projects that peak bloom will occur April 2-5.
That sits right in the wheelhouse of when we generally expect peak bloom to happen. That window is the last week of March into the first week of April. Though, since 2004, the peak has landed anywhere from March 15 to April 18. The wide range of peak dates highlights how hard it can be to project that exact date far in advance. "Forecasting peak bloom is almost impossible more than 10 days in advance," the NPS writes on its Bloom Watch site. "The cherry trees' blossom development is dependent on weather conditions, which are inherently variable."
The blossoms will hang around for up to two weeks after peak bloom arrives. It gives you a fair amount of time to go see them -- digitally or in-person -- and get the most out of the experience. Though, it's worth noting that the trees are vulnerable to freezing temperatures. Cold overnight weather can drastically change what you're going to see. The NPS notes that in 2017, an early bloom coincided with freezing temperatures to kill about half of all the blossoms before the peak even arrived.
Check back here to keep up with any adjustments to the peak bloom projection as it gets closer. We'll update the above projection as the NPS hones in on the date with more accuracy.
Sign up here for our daily Thrillist email and subscribe here for our YouTube channel to get your fix of the best in food/drink/fun.