The Chicago Cubs Won an Intense World Series and People Lost Their Damn Minds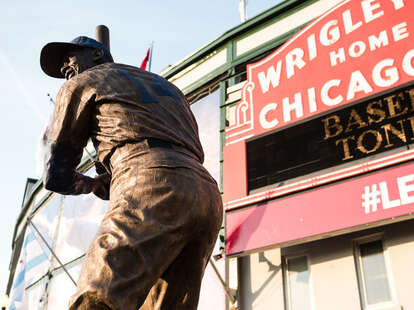 MATT KOSTERMAN/MAJOR LEAGUE BASEBALL/GETTY IMAGES
No need to pinch yourself. It really happened. The Chicago Cubs have won their first World Series since 1908. They are no longer pop culture'spunching bags. It's was a historic and wild Game 7 as the Cubs fought back from the brink of elimination, down 3-1 in the series, to win the championship.
Before they were able to fly the W, the Cubs lost the lead they held through much of the game. A three-run rally from Cleveland sent the game into the ninth inning all tied up.
A questionable bunt and six more outs didn't solve anything. The most intense scenario you can think of — tie game in the ninth inning of Game 7 — found a way to get more intense. Game 7 would require extra innings.
Yeah... before the 10th inning could start, there was a rain delay. One of the most intense games of baseball you've ever seen and the grounds crew is dragging a tarp over the outfield.
But then the game was back on at 12:15am EST. The Cubs took a two-run lead in the top of the 10th and held on to break the curse. For the first time in the lifetime of just about everyone on the planet, the Chicago Cubs are World Series champions.
Additionally, the thread and responses to the tweet below are a wonderful, heartwarming read.
Congrats to the Cubs and their long-suffering fans.
Sign up here for our daily Thrillist email, and get your fix of the best in food/drink/fun.
Dustin Nelson is a News Writer with Thrillist. He holds a Guinness World Record, but has never met the fingernail lady. He's written for Sports Illustrated, Men's Journal, The Rumpus, and other digital wonderlands. Follow him @dlukenelson.