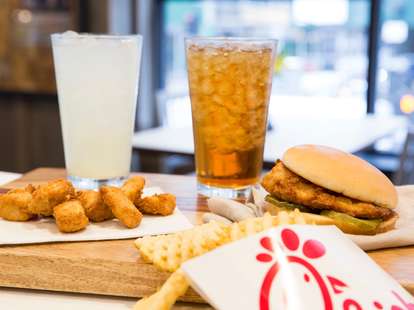 When Chick-fil-A announced that it was retiring its beloved cole slaw side late last year, the mourning among the fried chicken giant's fans was swift. But now, we can exclusively report that Chick-fil-A has made new change that you'll actually appreciate: Frosted Coffee, a promotional drink introduced two months ago, is sticking around as a permanent menu item. The company will officially announce the news via social media on Friday.
As we told you back when it first arrived as a promotional item in March, Chick-fil-A describes Frosted Coffee as a creamy mixture of its vanilla Icedream ice cream and cold-brewed iced coffee that's hand-spun, just like a milkshake. Chick-fil-A had planned to stop serving the drink on May 28th, but after seeing a 40%-50% increase in coffee sales since its launch, execs decided to keep it around for good.
The frozen beverage follows the huge success of the Frosted Lemonade drink Chick-fil-A launched last year and builds on the even bigger success the company has seen since diving into the premium coffee business in 2014. The drink comes in just two sizes -- small (14oz) and large (20oz) -- and starts $2.69, which although they're way different, is cheaper than your typical Starbucks Frappuccino.
Speaking of Frappuccinos, the introduction of Frosted Coffee was instantly seen as Chick-fil-A's attempt to take a bite out of Starbucks' big green grip on the blended coffee beverage market. However, an initial report claimed the drink is actually "much creamier and smoother" than a Frappuccino, which totally makes sense considering Starbucks baristas make them by blending coffee, syrups, milk, and ice.
This is all to say that you have yet another option when it comes to slurping a zillion cold coffee drinks this summer.
Sign up here for our daily Thrillist email, and get your fix of the best in food/drink/fun.
Tony Merevick is Cities News Editor at Thrillist and you really can't go wrong with mixing soft-serve and coffee in a drink. Send news tips to news@thrillist.com and follow him on Twitter @tonymerevick.