Chick-fil-A Is Giving Out Free Food Today, if You Can Stomach It
Chick-fil-A's annual Cow Appreciation Day is up there among the greatest free food giveaways in all of fast food. Thousands of loyal fried chicken fans and casual nugget lovers alike will celebrate on Tuesday, July 9, by getting totally free...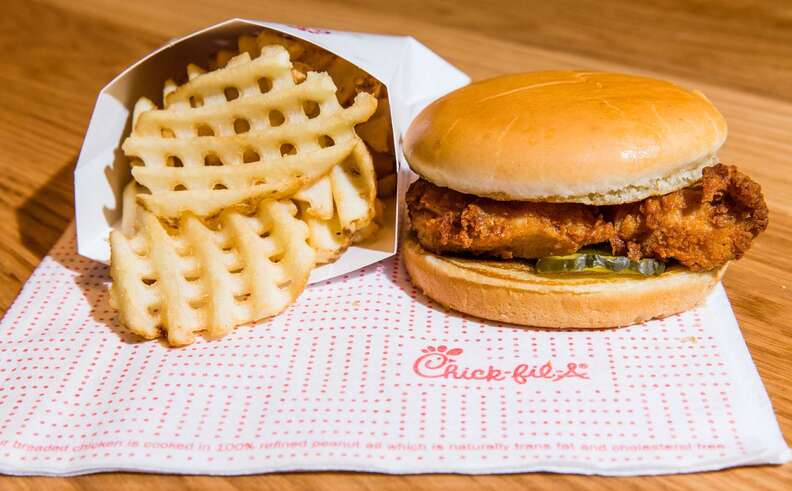 Cole Saladino/Thrillist
Cole Saladino/Thrillist
Fast food is supposed to be simple, but at Chick-fil-A, it can be more complicated.
Chick-fil-A's annual Cow Appreciation Day is up there among the greatest free food giveaways in all of fast food. Thousands of loyal fried chicken fans and casual nugget lovers alike will celebrate on Tuesday, July 9, by getting totally free poultry in honor of all the cows that get to live another day (get it?). But the occasion also forces many discerning eaters to reckon with the company's problematic anti-LGBTQ history and, well, the guilt that comes with eating there. Even when it's free.
How to get free Chick-fil-A
Cow Appreciation Day, now in its fifteenth year, is equal parts costume party and fried chicken feeding frenzy, served on a toasted, buttered bun. Getting the free food is simple: Chick-fil-A locations all across the country will give you one free entree if -- and only if -- you show up to the restaurant wearing "any sort of cow apparel" or cow-themed accessory, like a cow-print bandana... or perhaps a cow bell if you want to be that person. The deal is good for most breakfast entrees, lunch/dinner entrees, and kids meals from open to 7pm (local time). But if you want, say, a side of waffles fries (among the very best fast food fries) with your free Spicy Chicken Deluxe Sandwich, you'll have to cough up some moola for that.
Almost two million participated in Cow Appreciation Day at more than 2,400 locations in 2018, according to Chick-fil-A. If, for some reason, you're lacking proper cow attire, Chick-fil-A accepts and even encourages other creative expressions of bovinity. For example, you can pin some black "spots" to a white t-shirt or throw together a simple cow mask with a black marker and a paper plate. It can be as basic or elaborate as you want, so long as you're willing to be in public, representing as a cow.
Is the free food worth it, though?
The free food aspect of the event is easy enough, sure, but the whole celebrating Chick-fil-A part isn't. Before you climb into your full-body cow costume or dust off your handy cow-print bib to claim your meal, you should consider the side order of less-than-appetizing baggage it'll come with. The Atlanta-based chain's track record on LGBTQ issues has polarized lunch breaks for years now, but renewed questions about the company's charitable giving continue to make it difficult to just eat around the bad stuff.
You probably remember the nationwide boycott against Chick-fil-A in the summer 2012 following then-COO, now-CEO Dan Cathy's comments against marriage equality. Reports at the time also showed the company's charitable arm donated to multiple anti-gay organizations. LGBTQ advocates staged gay kiss-in demonstrations at Chick-fil-A restaurants while conservative supporters mobilized for a counter-boycott known as "Chick-fil-A Appreciation Day." The backlash and counter-backlash raged for weeks.
Chick-fil-A responded to the controversy by announcing it would get out of political issues like the fight for marriage equality, according to a report by Vox. That September, execs reportedly agreed to cease donations to anti-gay groups. That brings us to earlier this year, when a report by ThinkProgress revealed that in 2017, five years after the vow to stop donating to anti-gay charities, the Chick-fil-A Foundation gave $1.8 million to groups considered by many to be discriminatory. Here's what you need to know about the donations in question:
The Chick-fil-A Foundation donated $1,653,416 to the Fellowship of Christian Athletes in 2017, according to tax filings for that year. The FCA opposes "homosexual acts" and requires employees and representatives to pledge to adhere to a "sexual purity" policy.
The foundation donated $150,000 to Salvation Army, which has been accused of anti-LGBTQ discrimination over the years. The Salvation Army currently has a web page dedicated to outlining how it supports LGBTQ people in need.

It donated another $6,000 to Paul Anderson Youth Home. The Christian youth residential organization teaches that same-sex marriage is "rage against Jesus Christ and His values," according to the ThinkProgress report.

The Chick-fil-A Foundation's tax form for its fiscal year 2018 is not available yet, so there's no publicly available list of its most recent donations. We don't know if the Chick-fil-A Foundation continued to donate to these organizations beyond 2017.
The revelations inflamed opposition to the chain opening new restaurants in some parts of the country. In the span of just two weeks this spring, officials in charge of two airports -- Buffalo Niagara International Airport in New York and San Antonio International Airport in Texas -- blocked Chick-fil-A from opening in food courts at the respective hubs. Another city ostensibly run by expert trolls planned to open the "gayest Chick-fil-A" in America at its airport. Chick-fil-A supporters fought back, and conservative lawmakers in Texas went so far as to approve a law known as the "Save Chick-fil-A Bill," which bars state agencies from taking action against companies and people because of their affiliations with religious groups. The bill, signed by Gov. Greg Abbott (R) in June, goes into effect on September 1.
Chick-fil-A has also pushed back. In a statement issued in March, the company said the donations were "reported in a way that mischaracterizes the mission of the Foundation" and that it takes steps to ensure the money it gives benefits "youth and education" programs, not discriminatory agendas. The $1.6 million it donated to the Fellowship of Christian Athletes was used for summer sports camps and kids who participated were not required to be a member of the organization or sign any pledges, the company claimed. Chick-fil-A also decided to no longer donate to the Paul Anderson Youth Home after its $6,000 contribution, saying, "In 2017, a decision was made by the Chick-fil-A Foundation to no longer donate to the group after a blog post from 2010 surfaced that does not meet Chick-fil-A's commitment to creating a welcoming environment to all," per the ThinkProgress report.
"The work of the Foundation is committed to youth and education," the company said. "The Foundation's giving helps with economic mobility of young people by focusing on homelessness and poverty, education, and community revitalization, and is done with no political or social agenda. The narrative that our giving was done to support a political or non-inclusive agenda is inaccurate and misleading."
Of course, Chick-fil-A will always have legions of devoted fried chicken fans despite its controversial donations or -- dare we say it -- because of its controversial donations in some cases. A recent survey known as the American Customer Satisfaction Index named it America's favorite fast food chain for the fourth year in a row, the company's sales are soaring, and it continues to aggressively expand across the country with new locations. It certainly doesn't hurt that Chick-fil-A's chicken sandwiches are pretty good and its restaurant staff are welcoming and pleasant. However, you're not going to see Chick-fil-A earn a remotely acceptable score any time soon on the Human Rights Campaign's annual Corporate Equality Index or Buying for Workplace Equality Guide, which essentially grade companies on their LGBTQ-friendliness.
Fast food is supposed to be quick, convenient, and accessible for everyone -- something you don't have to think about much because, well, you're hungry and you just need to eat. Chick-fil-A has done much to try to remake its image as it expands into places like New York City, but as of today and amid our current political divisions especially, it's still not an easy choice for everyone who just wants a decent chicken sandwich. Even when it's free.
Sign up here for our daily Thrillist email and subscribe here for our YouTube channel to get your fix of the best in food/drink/fun.