How Well Does Chick-fil-A Hold Up via Delivery? We Ordered & Found Out.
We revisit some of America's most iconic fast food items in the age of social distancing.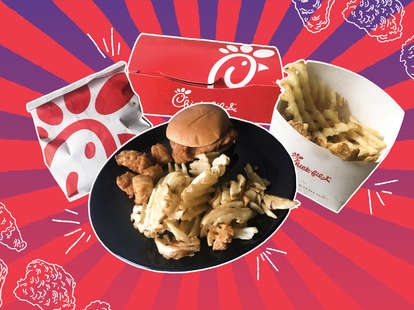 MAITANE ROMAGOSA/AMBER SUTHERLAND-NAMAKO/THRILLIST
MAITANE ROMAGOSA/AMBER SUTHERLAND-NAMAKO/THRILLIST
Editor's Note: In the age of social distancing, one of the only ways to safely get fast food is via delivery. We all know that a lot of foods aren't quite the same by the time they reach your door, but which fast food staples fare the best after traveling in a delivery bag? We're trying major fast food menu items to help find the best bets when ordering fast food to your door, with a new series of delivery-only taste tests called How You Holding Up?
None of this is going according to plan.
Taco Bell still eludes me. With more than 7,500 locations worldwide, including one within walking distance of where I write, I cannot obtain a Chalupa, a Chalupa Supreme, or a Triplelupa. Absent an immediate way to taco my Tuesday, I thought I'd see how the bacon at Wendy's was holding up. Although bacon has long been the fast food industry's white whale, Wendy's has a hit on its hands with the fun-to-say Baconator. But my closest location about 2.5 miles away apparently lacked the beef to baconate -- its menu was limited to chicken items when I tried to order. After having previously pored over online delivery platforms to obtain McDonald's, Burger King, and Popeyes, I thought this would get easier, but it seemed like my options were dwindling.
One divisive little chain-that-could, however, would still deliver its full menu to my address: Chick-fil-A. While others remained beyond my wanting grasp, the fried chicken sandwich slinger promised to have anything from its full flock of poultry provisions to my door in two shakes of a tailfeather. But could this bird really fly? Here's how the cult-favorite chicken sandwich, nuggets, and waffle fries held up from Chick-fil-A's chikin zone to my home.
A wing and a prayer: Ordering, wait time, and delivery experience
One thing I hadn't realized up until now was that being ferried away from these restaurants' websites to order via third-party delivery platforms meant that I'd spend less time subjected to each chain's unique branding. I began on Chick-fil-A's sparse site, but only spent a minute there before I was invited to hop over to DoorDash, Uber Eats, or Grubhub. I mashed DoorDash since every order I'd placed so far has funneled through the double-D, and assembled my cart. Waffle fries, six-piece chicken nuggets with Chick-fil-A sauce and garden herb ranch sauce, chicken sandwich, clickity-click-click done. It took about 10 minutes from the time I opened the tab to the time I clicked order; less than half of my ordering average so far. Finally, evidence that I was getting better at... ordering food on the computer. My total was $15.81 before tax and tip, and its ETA from 1.2 miles away was 28 minutes, max. It took 20.
After all that time sunk trying to order Taco Bell and Wendy's earlier in the day, I could not believe my luck, or the excellent work of the delivery person who drove the order from over by Barclays Center. Even the real-time map function worked, and I could see the car head west on Flatbush Avenue, away from the arena that I'd been reporting around since before it opened in 2012 and where I'd recently been for a Nets game. It was a media event, so my friend Rachel and I were in a private box with other industry colleagues, encircled by a buffet of foods from East Wind Snack Shop, Pig Beach, The Crabby Shack, Brooklyn Taqueria, Junior's, and a few other local purveyors. It was all fairly fancy and there was alcohol and a photogenic dessert cart, too, and they gave us team hats when we left. The Nets won.
The driver hadn't yet pulled away when I opened the door to pick up the paper sack of chicken, and we both smiled and waved and it felt like a fraction of being part of society again.
Eat mor chikin: Taste, presentation, and how it holds up
Chick-fil-A opened its first standalone NYC restaurant five years ago. My relationship with the brand is even more recent and limited to work tastings. It wouldn't transport me, Proust-like, to anything other than covering its introduction to Manhattan as a reporter, or having dozens of its sandwiches appear in my office for reasons that were unclear to me. No, I would be making a new memory with Chick-fil-A, one that would be forever tethered to the time that a virus that was poised to change the world forever.
The bottom of the paper bag was warm enough. Its top was neatly folded over with a sticker that read "sealed with a smile." The sandwich had its own, smaller papery sack, the nuggets came in a little rectangular box, and the waffle fries were in the same open-top container almost every fast food place favors. When I plated everything, the ranch and Chick-fil-A sauces were structurally sound enough to share a bowl without running into each other. That's good condiment engineering.
I'd ordered the sandwich unadorned for review purposes, so the breaded chicken, modestly buttered bun, and stray pickles skewed plain to my palate. The chicken looked more golden than it tasted, and other than a curious underlying floral note, it was solidly neutral. It could have come from a high school cafeteria, dine-in movie theater, or anywhere dependent on character-free mass appeal. Like a Chick-fil-A. Everything, in fact, was very mild, divorced from even the suggestion of seasoning. The pale waffle fries potatoed just fine, and the nuggets were proper sauce vehicles. I expect any member of Chick-fil-A's devoted following would have been perfectly happy with this order. I would also like to invite any member of said following to explain to me why the Chick-fil-A sauce is yellow but tastes red.
Final thoughts
Most of the time, you aren't going to be able to express your humanity and gratitude with a wave and a smile, but you know what's better than both? Money! So tip early, tip often, and keep tipping extra. I believe in you.
I've also noticed that, in my area, availability varies by day and sometimes even time of day. I have yet to come close to obtaining Taco Bell, but even before the reported beef shortage, Wendy's would pop on and off a couple different delivery platforms seemingly at random. So if you've really got a hankering for something in particular, don't set your hopes too high, but give it a few tries before you settle for, I don't know, Chick-fil-A.
Join us again next time when we (keep trying to) ask Taco Bell: How You Holding up?
Sign up here for our daily Thrillist email and subscribe here for our YouTube channel to get your fix of the best in food/drink/fun.
Amber Sutherland-Namako is an editor at Thrillist. Follow her on Twitter @AsaSutherland.