Chick-fil-A Is Giving Out Free Chicken Nuggets All Month Long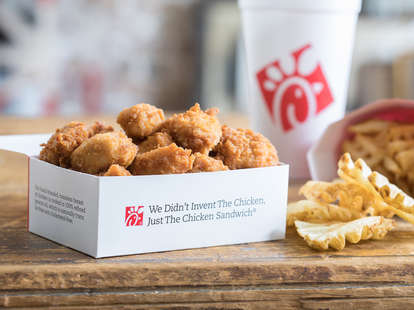 Courtesy of Chick-fil-A
Courtesy of Chick-fil-A
In an extraordinary move late last year, Chick-fil-A announced it would stop giving money to groups viewed by many as anti-LGBTQ. And while it remains to be seen if the controversial fast food chain will keep its promise, some eaters who previously stayed away from Chick-fil-A because of its questionable charitable giving may find its fried chicken offerings more palatable now. If that sounds like you, then you're in luck: Chick-fil-A is giving out free chicken nuggets throughout January.
How to Get Free Chick-fil-A
Chick-fil-A said it wants to thank customers for using its app by rewarding them with a free eight-count order of its classic Chick-fil-A Nuggets. To get your hands on the free nugs, all you have to do is sign into the Chick-fil-A One mobile app. If you don't have the app, all you have to do is download it from your respective app store and create an account. The free chicken nuggets deal will appear in the "Rewards" section of the app, under the "My Rewards" tab, where you can apply it to your order. That's it. The offer is good from now through January 31 at Chick-fil-A's more than 2,300 locations across the country, according to a spokesperson for the chain.
Chick-fil-A's chicken nuggets are almost as popular as its waffle fries. They're made with pieces of all-breast chicken meat that are seasoned, breaded by hand, and pressure cooked in refined peanut oil for a crispy crust. As for dipping sauces, your options include zesty buffalo, garlic & herb ranch, BBQ, honey mustard, Polynesian, Chick-fil-A sauce, sweet & spicy sriracha, and ketchup. An eight-piece order would typically set you back about five bucks.
In addition to making it rain free nuggets, the company also announced the nationwide launch of a new Kale Crunch side salad. The salad is a blend of kale and cabbage that's dressed with an apple cider and dijon vinaigrette and topped with almonds. You can get it instead of waffle fries with your meal for no extra cost, but why in the world would you want to do that? You can also exchange the free nuggets deal for a free Kale Crunch salad, according to a press release, but again, why? Nuggets 100%.
"Our customers are incredibly important to us, and this is one small way to thank them for their loyalty and introduce the perks of our app to new guests," Kevin Purcer, director of customer digital experience at Chick-fil-A, said in a statement. "We are excited to surprise our guests with a free eight-count order of nuggets this month through our mobile app."
The bottom line: free nuggets or free kale salad. You know what to do. As for choosing which dipping sauces you want, well, we wish you the best of luck.
Sign up here for our daily Thrillist email and subscribe here for our YouTube channel to get your fix of the best in food/drink/fun.