Chick-fil-A Is Giving Away Free Chicken Sandwiches With DoorDash Delivery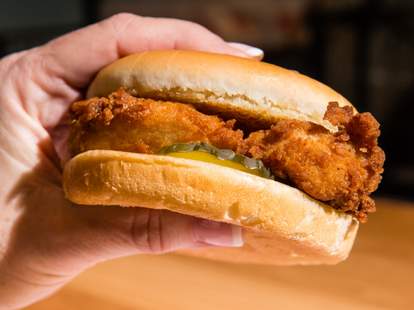 With Chick-fil-A's continued expansion into more places across the country, the only barriers separating you and one of its iconic fried chicken sandwiches are your self control, a ride to the nearest drive-thru, and maybe a break with your beliefs. As of Tuesday, however, one of those barriers is going away with the launch of delivery at nearly half of the chain's locations across the United States. And to celebrate, Chick-fil-A is giving out free chicken sandwiches.
Chick-fil-A, like Chipotle and a various other restaurant chains, has officially teamed up with DoorDash to provide food delivery from more than 1,100 of its 2,300-or-so locations across the country, according to a company spokesperson. The new delivery option is now available via the DoorDash mobile app or DoorDash's website. Finally, you can order all of chicken sandwiches, waffle fries, and other Chick-fil-A menu items you can possibly want for delivery right to your doorstep. Better yet, you can score a free chicken sandwich when you give the delivery option a try.
From now through November 20, Chick-fil-A will serve up a total of 200,000 free chicken sandwiches via DoorDash in select cities all across the country. The deal will be available daily through the DoorDash app and website starting at 10:30am. All you have to do is put together an order with a $5 minimum, add the promo code "CFADELIVERY", and the free sandwich is yours. You'll have to spring for the waffle fries, but maybe that's how you'll get to that $5 minimum.
Courtesy of Chick-fil-A
Chick-fil-A's new delivery option comes with a bit of catch, though. You have to be within a 10-minute delivery radius, which the company claims will help ensure your food is the same quality you'd expect if you dine in or pull up in the drive-thru. The chain first started testing delivery with DoorDash in select markets last year and has since integrated the delivery technology in its restaurants and learned a few things about what people order: 90% of DoorDash orders in the testing phase included waffle fries and orders are highest near hospitals and universities, among other findings.
In addition to delivery, Chick-fil-A has also relaunched its mobile app, opened its first delivery-focused locations in Louisville and Nashville, and has launched meal kits as part of a trial run at its locations in Atlanta -- all with the goal of making it even easier to get your hands on its chicken. Of course, these options aren't about to change your mind if the chain's political history doesn't sit well with you, but for the Chick-fil-A cult followers out there, delivery could be a big deal. 
Sign up here for our daily Thrillist email and subscribe here for our YouTube channel to get your fix of the best in food/drink/fun.