Chick-Fil-A Is America's Favorite Food Chain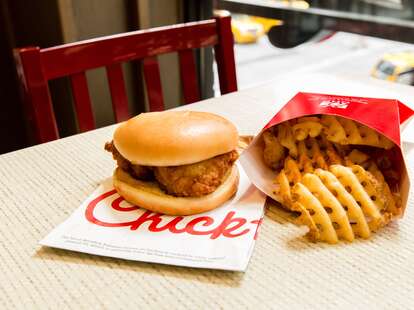 Cole Saladino/Thrillist
Cole Saladino/Thrillist
Politics be damned, America is a country that loves a good fried chicken. That's corroborated by the 2016 American Customer Satisfaction Index Restaurant Report, which was released Tuesday. In this year's report, Chick-fil-A is the highest ranking fast food restaurant in the country for customer satisfaction.
That's notable, because many chains have been rolling out new products constantly, like McDonald's bringing back their lobster rolls or KFC's Frankenstein's monster of pizza and chicken, among countless others. In contrast, Chick-fil-A has stuck to a more narrow and unchanging menu.
"They have a pretty limited selection of offerings and are really focused on chicken and chicken sandwiches," Forrest Morgeson, director of research at American Customer Satisfaction Index, told CNN. "They focus on what they do best, and it does well."
That earned them 87 points out of a possible 100 in the report.
It was a good year in general for fast food chains with customer satisfaction up 2.6 percent at large. There's only so far that can go with the likes of Bruce Lee telling people to be "never satisfied." When will good enough be good enough for you?!
Papa John's came in second with a five percent increase to a 82 out of 100 score. Little Caesars and Arby's took home the biggest gains over the last year with nine percent and eight percent gains, respectively.
Yet, while overall customer satisfaction was up, Chipotle predictably took a big hit. It fell six percent to a 78. That's after they were also unseated as America's favorite fast casual Mexican restaurant by Moe's Southwest Grill in the annual Harris Poll for Restaurant Brands of the Year. In fact they went from being number one in 2015 to number five in 2016 in that poll. That's on the back of a big e.coli scare that had people looking elsewhere for massive burritos.
Nonetheless, Chipotle still managed to stay ahead of McDonald's, who remained in last place despite a three percent jump, something that Morgeson attributes to "brand fatigue."
Here's the full ranking from this year's report.
1. Chick-fil-A, 87
2. Papa John's, 82
3. All Others, 81
3. Little Caesars Pizza, 81
3. Panera Bread, 81
6. Arby's, 80
6. Dunkin' Donuts, 80
6. Subway, 80
9. Chipotle Mexican Grill, 78
9. Domino's, 78
9. KFC, 78
12. Pizza Hut, 77
13. Burger King, 76
13. Wendy's, 76
15. Starbucks, 75
15. Taco Bell, 75
17. Jack in the Box, 74
18. McDonald's, 69
Sign up here for our daily Thrillist email, and get your fix of the best in food/drink/fun.
Dustin Nelson is a News Writer with Thrillist. Writing this made him seriously consider going to a Chick-Fil-A immediately after publication. Follow him @dlukenelson.