Chick-fil-A Is Giving Everyone a Free Breakfast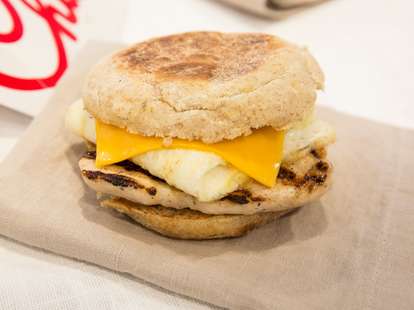 As you've probably noticed by now, Chick-fil-A loves to give away free food. This summer, the Southern fast food chain celebrated its annual Cow Appreciation Day with free meals and handed out free chicken sandwiches to promote the launch of its new mobile app. Now, Chick-fil-A is back with yet another tasty giveaway, but this time, it's for free breakfast.
Here's the deal:
From now through September 10th, Chick-fil-A will give you one free breakfast item if you already have the Chick-fil-A One mobile app or download it and create a new account. The offer automatically appears in the "Treats" section of the app and is good for one of three different breakfast menu items: the classic Chicken Biscuit, the three-count Chick-n-Minis, or the new Egg White Grill breakfast sandwich. Once you claim the offer via the app, you'll have until September 30th to redeem it for the free food.
Chick-fil-A One surged to the top of the App Store charts shortly after it first launched on June 1st and has since been downloaded more than seven million times, according to Michael Lage, senior manager of digital experience at Chick-fil-A. Along with marking the back to school season, the free breakfast promotion is the company's way of saying thanks for the app's huge success.
"We want to honor and thank millions of customers through Chick-fil-A One by giving them free breakfast," Lage said by phone. "We'd be really excited if as many customers as possible take that opportunity."
Don't mind if we do.
Sign up here for our daily Thrillist email, and get your fix of the best in food/drink/fun.
Tony Merevick is Cities News Editor at Thrillist and is really craving some breakfast right now. Send news tips to news@thrillist.com and follow him on Twitter @tonymerevick.