Chick-fil-A Is Dropping an Old Favorite from Its Menu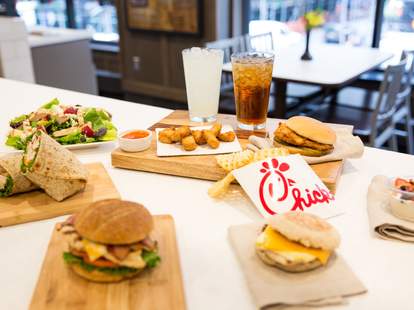 If you're a connoisseur of all things Chick-fil-A, you might have to make a serious change to your usual order starting next month. The Atlanta-based crispy chicken sandwich giant announced this week that it's doing away with a customer favorite that's been on its menu for 49 years: cole slaw. 
In a statement, Chick-fil-A said its days of serving cole slaw will officially end on January 18th and that removing the beloved staple, which some customers ordered instead of waffle fries, was a "difficult decision." However, a spokeswoman for the fast food chain said a new side will be announced sometime next week.
"We know many of our customers love our Cole Slaw, yet we have also heard from them they are looking for new tastes and healthier ways to eat in our restaurants," the company said in the statement. "To provide this variety means we will occasionally have to remove items from our menu."
As you can image, quite a few people are notpleased about the change, because cole slaw has become more than just a side. To help ease the pain and devastation, Chick-fil-A is taking the unusual step of revealing its secret cole slaw recipe to the public and has even launched a whole page on its website titled, "An Ode to Cole Slaw," where you can download the recipe card. You can check out the recipe right here, too:
- 4 teaspoons vinegar
- ¼ cup sugar
- ¼ teaspoon dry mustard
- ¼ teaspoon salt
- 1 cup mayonnaise
- 2 bags (10oz bags) fine shredded cabbage, chopped to 1/8in
- ¼ cup finely chopped carrots
Directions: Whisk vinegar, sugar, mustard and salt together until sugar is dissolved. Add mayonnaise and whisk to mix. Add cabbage and carrots. Mix to combine. Refrigerate for 2 hours and serve. (Makes 6-8 servings).
While you may have to say slaw you later to Chick-fil-A's cole slaw, at least your precious chicken sandwiches aren't going anywhere.
Sign up here for our daily Thrillist email, and get your fix of the best in food/drink/fun.
Tony Merevick is Cities News Editor at Thrillist and only enjoys cole slaw if it's damn good cole slaw at a barbecue joint. Send news tips to news@thrillist.com and follow him on Twitter @tonymerevick.