Chick-fil-A Is Replacing Its Breakfast Burrito With a New Menu Item
When Chick-fil-A first introduced the Egg White Grill a little more than year ago, the fried chicken sandwich chain quietly killed off the popular Spicy Chicken Biscuit sandwich at most of its restaurants to make way for the health-conscious breakfast sandwich. Now, the company is launching another brand new breakfast offering and another menu item is getting the boot: the Breakfast Burrito.  
On Monday, Chick-fil-A announced the nationwide rollout of the Hash Brown Scramble, the chain's first-ever breakfast bowl and its latest "protein-packed" morning meal for eating on the go. Each bowl is made with scrambled eggs, tater tot-style hash browns, cheese, and your choice of chicken nuggets or sausage. You can also get all of that stuffed into a tortilla as a burrito. Jalapeño salsa comes on the side with both versions, according to a press release.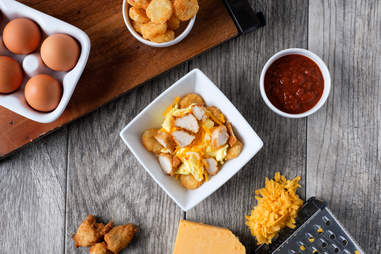 Courtesy of Chick-fil-A
The arrival of the breakfast bowl (and burrito) comes after Chick-fil-A tested similar items in several markets across the country over the last year or so. As you may have guessed by now, the Hash Brown Scramble Burrito replaces the existing Breakfast Burrito, which the fried chicken empire offered for several years. That burrito was made with chicken, scrambled eggs, roasted onions and peppers, and cheese. So, while the new burrito is different, it's probably not different enough to ruin your morning if you're a big fan of the original. After all, how can you not like having hash browns inside?
Meanwhile, Chick-fil-A continues to test its new family-size meals and sides like mac and cheese and bacon baked beans in a few cities through this fall. With any luck, they'll land on the nationwide menu without spelling doom for another popular offering. 
Courtesy of Chick-fil-A
Sign up here for our daily Thrillist email and subscribe here for our YouTube channel to get your fix of the best in food/drink/fun.
 
Tony Merevick is Senior News Editor at Thrillist and can't recall ever eating something described as a breakfast bowl. Send news tips to news@thrillist.com and follow him on Twitter @tonymerevick.