Chick-fil-A Is Launching Its First New Chicken Sandwich in Over 3 Years
Chick-fil-A doesn't change its menu very often, so when the popular fast food chain adds a new menu item or takes away a beloved one, people tend to freak out accordingly. The company's latest announcement, however, may be an even bigger deal.
On Monday, Chick-fil-A announced the launch of its first-ever seasonal entree, the Smokehouse BBQ Bacon Sandwich. The sandwich features the chain's signature grilled chicken topped with Colby Jack cheese, green leaf lettuce, and special Smokehouse BBQ sauce, along with what's perhaps the star of the show, candied bacon made with brown sugar and pepper. A new Hawaiian-style bun holds it all together.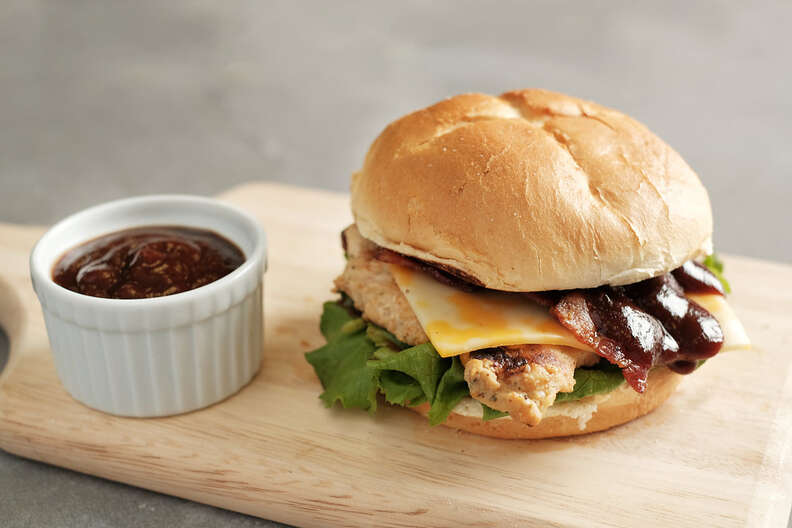 The Smokehouse BBQ Bacon Sandwich is Chick-fil-A's first new non-breakfast sandwich since the introduction of its revamped Grilled Chicken recipe back in April of 2014, according to a spokesperson. However, it will only be around for a limited time this summer -- May 22 through August 19 -- nationwide.
David Farmer, Chick-fil-A's vice president of menu strategy and development, said the BBQ sandwich is "unlike anything we have on the menu." On top of that, Chick-fil-A is also launching Watermelon Mint Lemonade that's made to complement the sandwich's savory and zesty BBQ flavors. Perhaps the biggest story here, though, is all of the other sandwiches on the menu that you'll be able to customize with the new candied bacon topping. Your regular chicken sandwich will never be the same.
Sign up here for our daily Thrillist email, and get your fix of the best in food/drink/fun.
Tony Merevick is Cities News Editor at Thrillist and loves a good BBQ bacon chicken sandwich. Send news tips to news@thrillist.com and follow him on Twitter @tonymerevick.