Chick-fil-A Is Unleashing Meal Kits to Rival Blue Apron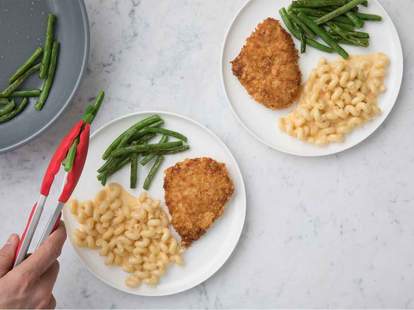 Chick-fil-A, which was recently crowned America's favorite fast-food restaurant for the third year in a row, wants to make cooking at home almost as easy as hitting up the drive-thru. Taking a cue from meal-kit services like Blue Apron, the ever-polarizing chain is launching Mealtime Kits, which will feature fresh, pre-measured ingredients and be available for purchase along with your usual spicy chicken sandwich.
If you're picturing a sandwich-assembly station, we're sorry to disappoint you. The kits will feature more traditional meals from a rotating menu that currently includes Chicken Parmesan, Chicken Enchiladas, Dijon Chicken, Pan Roasted Chicken, and Chicken Flatbread. These kits will serve two people, run you $15.89, and should take 30 minutes or less to make.
Courtesy of Chick-fil-A
"We designed our offering so our guests don't have to order ahead, subscribe to a service, or make an extra stop at the grocery store," Michael Patrick, innovation program lead at Chick-fil-A, said in a statement. "They simply pick up a Mealtime Kit at one of our restaurants at their convenience -- for example, when they're already at a Chick-fil-A restaurant grabbing breakfast or lunch, or in the drive-thru on their way home."
Starting August 27, these kits will be available at 150 restaurants in the Atlanta area through mid-November, but if it goes well, there's a good chance they'll be headed to Chick-fil-A locations nationwide. Just remember that even then, you'll need to pick one up ahead of time on Sundays.
Sign up here for our daily Thrillist email and subscribe here for our YouTube channel to get your fix of the best in food/drink/fun.