Chick-fil-A Just Revealed New Quinoa Bowls & Breakfast Items
Although you probably associate Chick-fil-A with its famous fried chicken sandwiches and waffle fries, the Southern fast food chain appears to be on a bit of a health kick lately. Weeks after introducing a new, health-conscious breakfast sandwich, Chick-fil-A has now revealed a handful of new menu items including quinoa "grain" bowls, breakfast bowls, and even a new protein smoothie. Seriously.
Chick-fil-A promises the crispy chicken sandwiches, nuggets, and fries aren't going anywhere (phew!), but the company appears to be courting customers hungry for foods like quinoa, kale, butternut squash, egg whites, and other healthy ingredients that are apparently best served in a bowl.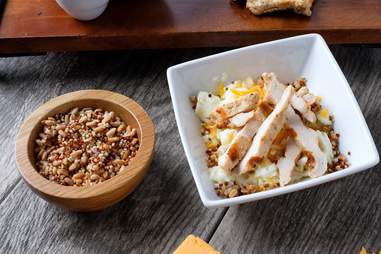 Courtesy of Chick-fil-A
Starting on Monday, Chick-fil-A locations in a few test markets across the country will begin serving two quinoa-powered bowls: the Harvest Kale & Grain Bowl and the Egg White Grill Grain Bowl. The Harvest bowl features a blend of red quinoa, white quinoa, farro, roasted butternut squash, and diced apples that's served atop chopped kale and topped with goat cheese, feta cheese, dried cherries, nuts, and light balsamic vinaigrette dressing, according to a press release. If you order it with grilled chicken (that's optional), the lunch/dinner entree totals 370 calories and 22g of protein, and will set you back around eight or nine bucks.
As for the Egg White Grill Grain Bowl, Chick-fil-A said it's available for breakfast and is made with the same quinoa blend as the Harvest bowl, but with scrambled egg whites, grilled chicken, and a Monterey jack and cheddar cheeses. All said, it's 220 calories and 29g of protein and costs $5. Both bowls roll out to participating Chick-fil-A locations in the San Francisco Bay Area; Sacramento, CA; Huntsville, AL; and Tampa, FL, but if the test goes well, they could go nationwide in the next couple of years.
Courtesy of Chick-fil-A
In addition to the health-focused grain bowls, Chick-fil-A is unleashing three new breakfast entrees -- two of which come served in bowls -- on participating restaurants across the states of New York and New Jersey as well as the cities of San Diego, CA, Columbia, S.C., and Washington D.C. Here's the full rundown:
Hash Brown Scramble: This breakfast option mercifully includes fried chicken. Specifically, Chick-fil-A said it's made with its hash browns, a blend of cheeses, scrambled eggs, and Chick-fil-A Nuggets or sausage. You can order it in a bowl or as burrito, both of which come with jalapeno salsa. The bowl version has 450 calories and 30g of protein, while the burrito version adds another 200 calories. 
Egg White Grill Bowl: Think of Chick-fil-A's new Egg White Grill breakfast sandwich, but in bowl version. It's as simple as it is lean: scrambled egg whites, cheese, and grilled chicken, all totaling 180 calories and 29g of protein. However, unlike the sandwich version, the bowl comes with jalapeno salsa on the side. 
Berry Protein Blend: This hand-spun smoothie combines chia seeds, ancient grains, mixed berries, and yogurt with a touch of Chick-fil-A's Icedream soft-serve ice cream. It's topped with a bit of granola for some crunch. As the name suggests, the breakfast beverage packs the protein, with 23g and 340 calories.
Courtesy of Chick-fil-A
Just like the quinoa bowls, there's a chance all three could land at your local Chick-fil-A sometime soon.
"In addition to our classic breakfast offerings our customers know and love like our Chick-fil-A Chicken Biscuit or Chick-n-Minis, we're excited to offer three new breakfast items for our customers to try and help us determine whether or not we launch them nationwide," said Matt Abercrombie, senior consultant of menu development, in the release.
This is all to say that your next Chick-fil-A run might come with a side order of somehow choosing between new and healthy or the delicious fried chicken sandwiches that made you fall in love with Chick-fil-A in the first place. Good luck with that.
Sign up here for our daily Thrillist email, and get your fix of the best in food/drink/fun.
Tony Merevick is Cities News Editor at Thrillist and occasionally attempts to eat more quinoa, but it never lasts for very long. Send news tips to news@thrillist.com and follow him on Twitter @tonymerevick.